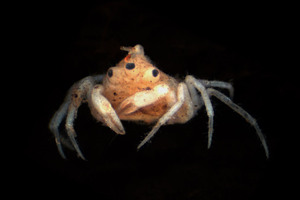 They call him Blinky - a tiny freshwater crab fished out of the Hoteo River on the Kaipara Coast that's made a splash around the world this week, thanks to its three eyes.
Scientists have described the bizarre deformity as "astounding" and have attempted to explain what might have caused it.
The find was unique enough to warrant its own study, published in renowned international journal Elsevier this month, as well as a novel nickname.
Its mutant namesake from The Simpsons TV show, Blinky the fish, owed its three eyes to nuclear waste but scientists cite a far stranger cause for the little crab's extra eye.
The study authors see not one crab, but a pair of conjoined twins. Professor Gerhard Scholtz, of Berlin's Humboldt University, suspected a malformation had occurred and the creature developed another set of eyes, one between its normal pair and the other on its back.
At some point, the fourth eye was damaged and the tissue formed an antenna. With three eyes in a row, two rostra (snout-like projections) and the dorsal antenna-like structure, Blinky's features were described as unique, having never been described before.