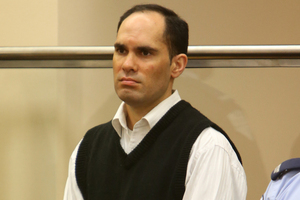 Victims of a prominent Far North businessman who were sexually abused while in his care have expressed disappointment at the sentence handed down today.
Daniel Taylor, 34, a former foster parent for Child Youth and Family, was sentenced to five years and seven months behind bars when he appeared for sentencing in the High Court at Whangarei this morning.
Justice Peter Woodhouse ordered that Taylor serve at least two years and 10 months before he was eligible for parole and expressed doubt at the convicted paedophile's remorse after it emerged he had penned a single line apology letter to his victims - signed "regards, Daniel Taylor".
Speaking outside the court, a victims' spokesman said the young boys who Taylor had sexually abused were "very disappointed" with the sentence.
"Because you have a person who was given a lot of trust, a person who had a lot of power to some extent. All that he used in an unwise and unprofessional way and that has had great significant impact on those young boys."
Taylor was also a youth leader with the Church of Latter Day Saints (LDS).
LDS church member in Kaitaia, Anahera Herbert-Graves, said the sentence wasn't "very punitive" in that Taylor could be out of prison in three years.
Taylor had earlier pleaded guilty to six charges of indecently assaulting a boy aged between 12 and 16, one of indecent assault on a boy under 16, one charge of indecent assault on a boy aged over 16 and one of attempted sexual connection with a boy under 12.
A former vice president of the Kaitaia Business Association, Taylor sat motionless with eyes fixed at the judge throughout today's sentencing.
Justice Woodhouse said given Taylor's lack of insight into his offending and his one-line apology letter to his victims, he had doubts about the extent of his remorse.
About a dozen people, including victims, their families and supporters, attended the court hearing, with a man in the public gallery shouting profanities at Taylor as he was escorted back to the cells.
A father and his two children left court crying while the victim impact statements were being read out.
Three of the five boys he sexually abused over a five-year period were brothers and their mother read out their victim impact statements while facing Taylor in court.
The first victim said he felt lonely and embarrassed and began to shy away from friends because he was afraid they would find out about Taylor's offending.
Another victim said he was 15 years old when Taylor first abused him and that his offending continued for two years.
"I was embarrassed. After a while, I started telling others (about his offending). I was disgusted with Daniel Taylor's behaviour."
Justice Woodhouse said Taylor befriended and groomed his victims by spending money and taking them to places.
He said the victims could learn how to cope but the harm would last for a long time.
The boys' parents felt a lasting sense of guilt at not being able to protect their children, the judge said.
Taylor's actions had caused considerable harm, he abused positions of trust and authority, and all the victims were vulnerable.
Northland police criminal investigations manager Detective Inspector Kevin Burke said while Taylor had been sentenced, his victims would remain victims for the rest of their lives.
"Police would encourage any further victims of sexual abuse in Northland to come forward."
In August, Far North school teacher James Parker was sentenced to preventive detention with a minimum non-parole period of seven years after admitting 74 sex charges relating to sleepovers with boys at his Awanui farm between 1999 and 2012.
The court was told the charges related to upwards of 300 offences.
And police are currently carrying out an investigation against James Sanders, who has already appeared in the Kaitaia District Court on a number of sexual offence charges against children.
For more articles from this region, go to Northern Advocate