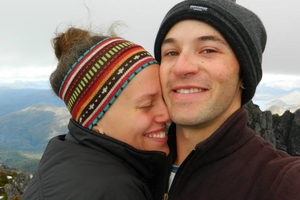 Pieces of the car in which Rutger Hale was killed by a mystery object near Lake Hawea last month are to be sent to forensic experts in Auckland for analysis.
Despite extensive roadside searches and a public appeal for information, police have been unable to identify the object which smashed through the windscreen of Mr Hale's car and struck him as he drove up the Maungawera Hill on State Highway 6 early on October 24.
The object exited through the rear windscreen and has not been located.
Detective Sergeant Brian Cameron, who is leading the investigation into Mr Hale's death, said on the advice of the Institute of Environmental Science and Research (ESR), police were removing some portions of the vehicle's interior the object came into contact with as it flew through the car.
Those portions would be sent to ESR's physical evidence team in Auckland for examination, "in a bid to identify the nature of the object''.
Police have been talking with "a number'' of drivers of white utilities, after Mr Hale's partner, Danielle Oylear - who was in the passenger seat - reported seeing such a vehicle travelling past in the opposite direction about the time the object came through the windscreen.
Det Sgt Cameron said some of those drivers had been eliminated from the inquiry as they were not on the road when the accident happened.
Others had been identified as being on the road at the time, but "no-one has come forward and said `I'm missing anything', so to that degree we've been unable to advance it any further''.
Police remained "very keen'' to hear from the driver of a vehicle towing a fishing boat which pulled over at the top of the Maungawera Hill to let a white utility past, as well as any other drivers who were in the area.
"The focus has been on this white ute, but we're interested in hearing from anyone who was driving along that portion of road at the time ... or indeed anyone who might have picked something up.
"We clearly want to get to the bottom of what's occurred, firstly to see if we can prevent it from happening again, but for the family it leaves a lot of unanswered questions that they need to resolve so they can move forward.''
Anyone with information can contact Wanaka police on 03 443-7272 or via Crimestoppers: 0800 500-111.