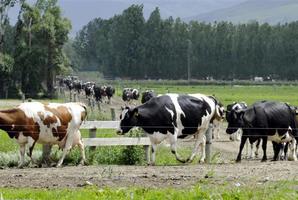 A West Coast farming company has been fined $66,000 on seven charges relating to dirty dairying.
In sentencing Moir Farms Maimai Ltd, Judge Paul Kellar commented on the company's "extensive history of non-compliance''.
The company was convicted in the Greymouth District Court last month, but Judge Kellar's written decision was released only this week.
Moir Farms owns six dairy farms in the Mawheraiti and Maimai valleys. The charges, relating to two farms, include illegal and unconsented works in the bed of an unnamed tributary of Casolis Creek during the construction of an extra effluent treatment pond, and illegal discharges of effluent to land and water.
Tests showed that the farm discharges led to a massive increase of e.coli (faecal content) and high levels of ammonia.
Judge Kellar said the seriousness of the offending was reflected in the maximum available fine of $600,000 on each charge.
"Parliament substantially increased penalties for this offending as a reflection of the environmental harm which the offending may cause,'' the judge said, noting that Moir Farms' record was not good.
"The company has previously appeared, but not for offences under the Resource Management Act. It has an extensive history of non-compliance with the council, enforcement action has been taken on all six farms owned by the defendant company and managed by Mr [Stuart] Moir.
"Six abatement notices were issued in respect of dairy farms the company owns, between 2002 and 2009, and five infringement notices were issued between 2003 and 2011.''
Judge Kellar said that history meant the company could not be regarded as "an entity of otherwise good character''.
Alastair Logan, prosecuting on behalf of the West Coast Regional Council, submitted that a starting point of $125,000 would be appropriate to mark the farmer's "indifference to his legal obligations'' as the farms had already been served with many infringement notices.
Judge Keller set his starting point at $88,000 but reduced it by 25 per cent to account for the company's early guilty pleas, co-operation (it now has the appropriate consents) and remorse.