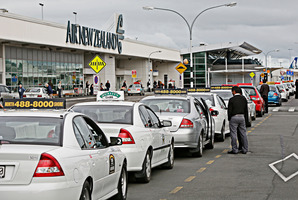 Auckland Airport was hit by a strike today, with more than 100 taxi drivers walking off the job.
The drivers from several taxi companies were off work from early morning until about 3pm, when they heard back from representatives who met the airport company to demand improvements to conditions.
The airport company said enough other drivers remained available to ensure no disruption to airline passengers.
The strike followed a stand-off on Tuesday night in which a driver refused to show his passenger licence to an airport security guard, waiting instead for police to arrive to check his documentation. He was suspended for one month by the airport authority.
The man told the Herald he was protesting against heavy-handed tactics by security staff, who he believed had been acting unfairly towards taxi drivers forced to wait on ranks without food or drink, or being allowed to leave their cabs to get refreshments.
He said only the police were entitled to see his licence.
The suspended driver had since been reinstated.
Airport retail and commercial general manager Richard Barker acknowledged the guard erred in demanding to see the licence, rather than other identification needed to establish the driver's entitlement to work on the premises.
The incident followed the discovery last week of an unauthorised driver who was using someone else's identity documentation to pick up passengers.
The drivers were also concerned at a reconfiguration of taxi ranks, which they said was making it more attractive for passengers to gravitate towards an area restricted to cab firms who pay the airport company extra fees for dedicated spaces.
Drivers' spokesman Manmohan Singh said some taxi drivers had suffered a 50 per cent loss of business under the new system, introduced in March.
Labour's transport spokeswoman, Darien Fenton, said drivers had to pay $190 a week "for the privilege of sitting on a rank for hours, without food and drink and facing the impossibility of making a day's living.
"Many work 72 hours a week, yet earn as little as $60 a day," she said.
Mr Barker said cabbies were entitled to eat in "holding" areas away from public view, but not after reaching the front of passenger terminals.
He said the airport company did not collect money directly from drivers, so he assumed Ms Fenton was referring to levies charged by their own companies.
Free-flow ranks remained closer to airport terminals than dedicated spaces, and the company had no control over which taxi companies passengers chose to use, he said.
Mr Singh said he and other drivers' representatives would meet the airport company again next week to check on progress towards addressing their concerns, before deciding whether to take more protest action.