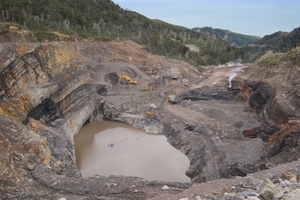 The smouldering underground fire that has been burning in the old Strongman Mine since August 1996 has forced workers at the small-scale open-cast mining operation above to take precautions.
Solid Energy spokesman Bryn Somerville said the mining team at the site, in the Nine Mile valley, was regularly working through areas of heated rock and coal so special care was needed in the planning and operation of mining activity.
The company also had consent to divert water from the site to cool areas of heating underground.
The underground fire has raged for 17 years, despite Solid Energy's best efforts to extinguish it. They have tried to quench it, injected grout barriers, removed coal ahead of the fire areas and attempted to starve it of air, all without success.
However, Mr Somerville said the open-cast operation on the surface was not fanning the flames.
"The incidence of mine fire at Strongman is not any greater as a result of the recent mining activity. In some places, the fire's ability to migrate has been restricted by the removal of coal from the edges of the old underground mine footprint."
The open-cast is one of up to five operational areas at Strongman to access the high-quality coking coal resources. The coal is processed through the Rocky Creek washery, near Rapahoe, and is used in South Island domestic supply contracts and for international shipments through Lyttelton for steelmaking.
GRS ln