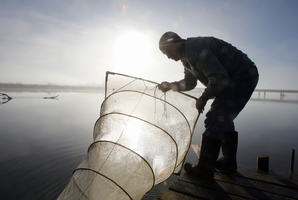 A Wanaka whitebaiter is believed to have drowned after the car he was in plunged into a river and sank.
But his 75-year-old fishing companion scrambled from the vehicle and swam to safety as it sank in a deep section of the Turnbull River, south of Haast last night.
The car had plunged 2.5m into the Turnbull River, at Okuru, about 500m upstream from the bridge. Police believe 68-year-old Ian Charles Horrax of Wanaka drowned.
A third person in the whitebaiting party made his way to the nearby Haast Holiday Park to raise the alarm about 8pm.
Okuru farmer Kerry Eggeling was one of the first people on the scene. He said the car had left a narrow section of the gravel road, which had been eroded by the current, and then it dropped into a "very deep'' part of the river.
"The car floated about 60m downstream before it sank,'' Mr Eggeling said.
The survivor freed himself by winding down the front passenger window and swimming out.
Constable Robin Manera, of the Haast police, and service station owner Eamonnd Johnston later located the vehicle with the victim still inside. Mr Manera fastened a rope around the passenger window, then Mr Eggeling used his tractor to pull it towards the riverbank.
"Rob (Manera) then stripped off his clothes, headed back into the freezing cold river and attached a strop to the vehicle's towbar and we pulled it out. It took us about an hour and a half to get the vehicle as we had to lift it about 2.5m to get up the bank,'' Mr Eggeling said.
He said the dead man had been a regular visitor to the area during the whitebaiting season.
"He and his mates have been coming here (Haast) for a few years now.''
He was unsure if the third man in the party had been following the crashed vehicle or witnessed the car plunge from their whitebaiting stand on the north bank of the river.
West Coast police intelligence supervisor Rodney Beckett said they were still to confirm who was driving the vehicle at the time.
Greymouth CIB staff were at the scene this morning. The name of the dead man has not been released as next of kin have yet to be notified.
- APNZ