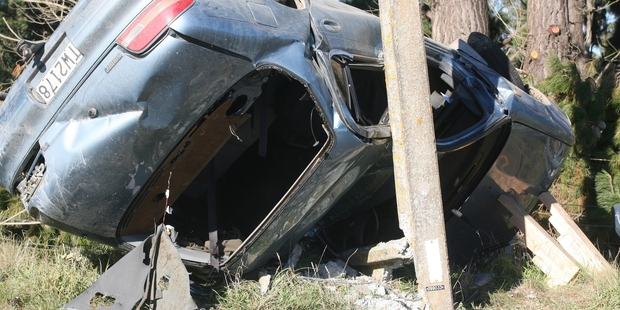 A young man trapped for hours next to his dead mate wept in court as police read details of the crash that killed his friend.
Adam James King, 19, a former student at the Taratahi Agricultural Training Centre near Masterton, appeared in the Masterton District Court yesterday and pleaded guilty to careless driving causing death while under the influence of alcohol or drugs.
A blood test showed King had 55mg of alcohol per 100 millilitres of blood, under the adult limit of 80mg but over the youth limit of zero.
On May 29, King, after drinking, lost control of the car he was driving in Kahutara Rd, Featherston. The vehicle swerved along the road and into a power pole, killing his passenger, Tyler Swinbank, 17, also an agricultural student.
Police prosecutor Jodie Lawrence told the court that about 6.30pm on May 29, King and Mr Swinbank were at a farm in Wairio Rd, South Wairarapa, where they had been working and living.
They decided to drive to the nearby Lake Ferry Hotel in King's car. King told police that during this time Mr Swinbank was driving.
At the hotel, King was served a jug of beer and Mr Swinbank a bowl of fries.
When the hotel closed at 7.30pm they drove to Martinborough, stopping at a friend's house in Te Maire Rd, about 8.30pm, where they drank beer from bottles King had in the car.
About 10.30pm they left the house and drove south on Kahutara Rd, South Wairarapa. About 5km from their friend's home, King lost control of the car, causing it to veer left off the road, at the end of a moderate right-hand bend.
Tyre friction marks showed the car veered to the right before going back to the left and leaving the road, hitting a sheep fence and pine branches before rolling into a power pole.
The car halted with the driver's side down in the ground and the roof up against the power pole, trapping the two teenagers.
Mr Swinbank died instantly on impact.
King was trapped in the driver's side with a serious facial fracture.
The crashed vehicle was discovered by a night-shift worker at 3am. The worker called emergency services.
"It is highly likely that the pair had crashed some four and a half hours before the crash was discovered," Ms Lawrence said.
Mr Swinbank was found belted into the passenger seat and was removed by fire staff trying to reach King.
King walked from the wreckage after fire staff undid his seatbelt. He was flown to Wellington Hospital, then to Hamilton Hospital, for specialist treatment.
Police scene analysis showed King was driving too fast for the corner, which caused him to lose control and crash, killing Mr Swinbank.
Judge Peter Hobbs convicted King and remanded him at large for sentencing on December 12.
For more articles from this region, go to Wairarapa Times-Age