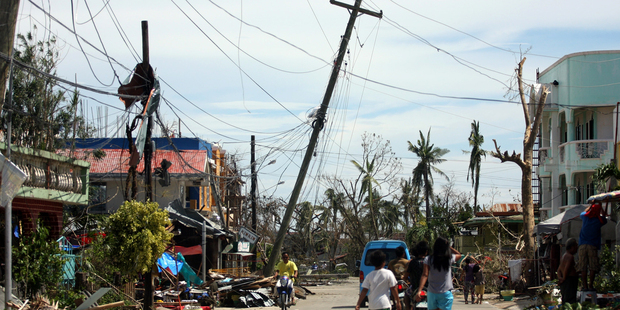 New Zealand charities have contributed an initial donation of hundreds of thousands of dollars and launched appeals for donations to go to typhoon devastated Philippines.
Typhoon Haiyan ripped across the Philippines on Friday bringing widespread flooding, landslides, and the destruction of thousands of homes and buildings.
Up to 10,000 people were feared dead and millions more were affected by the typhoon.
The NZ Red Cross and Catholic charity Caritas Aotearoa New Zealand are each donating $100,000 to victims of the super storm.
NZ Red Cross acting secretary general Bruce McGregor said the best way for people to help was by donating money to the appeal, not by giving goods.
"Unsolicited goods can clog up ports and airports and distract staff from more important tasks.
This can be detrimental to those most in need.
"The International Federation of Red Cross has pre-stocked warehouses all over the Asia-Pacific region, full of brand new goods like tarpaulins, blankets, kitchen sets and jerry cans,'' he said.
"Please do not collect or send goods, as it is common for aid organisations to be left with large quantities of goods that are not required - sometimes at great cost.''
The Red Cross also offered a family tracing service, he said.
Anyone looking for family in the Philippines should go to the New Zealand Red Cross website and click on Emergency Appeal: Typhoon Haiyan.
New Zealanders with concerns for family members who are New Zealand citizens should contact the Ministry of Foreign Affairs and Trade if they had concerns.
Caritas director Julianne Hickey said teams were assessing immediate needs for food, water, clothing and shelter among the 9.5 million people thought to have been affected by the typhoon.
"A picture of massive devastation is emerging from our contacts on the ground,'' she said.
"We fear the scale of destruction in yet unreached areas will be catastrophic, as many of the areas affected are among the Philippines' poorest communities. As well as loss of life and homes, people's livelihoods from farming, livestock and fishing are greatly affected.''
The hardest-hit communities had no water, food or electricity.
Families from informal settler communities were the worst hit by the storm surge and needed immediate assistance according to the local church.
Caritas Philippines-NASSA head, Father Edwin Gariguez, said it was the "strongest and biggest'' storm to reach the country.
"It's hit an area already devastated by an earthquake. We are in great need. It's a really big calamity.''
****************
How to help:
* Donations to Caritas can be made by:
- phoning 0800 22 10 22 to make credit card donations;
- phoning 0900 4 11 11 to make an automatic $20 donation from your phone bill;
- donating online using a credit card at www.caritas.org.nz; or
- posting to Caritas, PO Box 12193, Thorndon, Wellington 6144, New Zealand.
Donations to the Red Cross can be made by:
- visiting www.redcross.org.nz;
- sending donations to the Typhoon Haiyan Appeal, PO Box 12140, Thorndon, Wellington; or
- by making a direct credit into our bank account: ASB 12-3192-0015998-00.