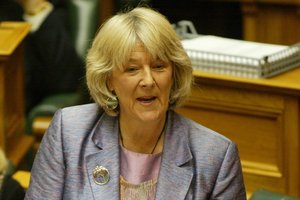 In 2001, when Phillida Bunkle, a Government minister, was revealed to be claiming an out-of-town Wellington accommodation allowance while enrolled as a Wellington Central voter, she proclaimed that, legally, she was within her rights.
Twelve years on, and despite an avalanche of controversy over parliamentarians' accommodation and travel allowances, nothing has changed.
Two Government ministers have responded much the same way over their use of a loophole to own properties that are not declared and to claim up to $78,000 in taxpayer-funded subsidies each year to pay off the mortgage.
Simon Bridges, the Minister of Energy and Labour, said his role was "to comply with the rules and no more". Police Minister Anne Tolley said that she had abided by the legal requirements for the Register of Pecuniary Interests. Four other Government MPs shared their use of the loophole and, presumably, a similar attitude. It seems not to have occurred to them that the law is never the primary arbiter of personal conduct. Or that they, as members of a Government that has sought to wring savings out of state spending, should be setting an example that is whiter than white.
The main criterion for public spending should be need. This manoeuvring has nothing to do with that and, in spite of all the opprobrium heaped on politicians, everything to do with MPs benefiting from a taxpayer subsidy. By owning and living in Wellington properties, ministers get a flat annual accommodation fee of $37,500, while backbench MPs can claim up to $24,000 in expenses. By owing the property in a private super scheme, they can also use their taxpayer-funded superannuation subsidies to pay off the mortgage.
For every $1 placed in their private super schemes by each MP, the taxpayer contributes $2.50 to a maximum of $28,920 - an annual super total of up to $40,488. Combined with taxpayer-funded accommodation allowances, a minister could pay off up to $77,988 of the mortgage each year, while also making a capital gain on the property.
It seems hardly coincidental that of the 238 private superannuation schemes registered in this country, about 40 belong to current MPs. Thirty-five of those are National MPs. By any yardstick, that is is remarkably high percentage. Equally damning is Dame Margaret Bazley's advice to Parliament's standing orders committee two years ago. She said it would be too cumbersome to expect MPs to declare assets held by managed schemes with big super providers because the assets invested in were difficult to track. But she made a distinction between those providers and MPs with personal schemes that were controlled by them. The committee decided, however, to leave all super scheme assets undisclosable.
John Key was keen to hose down the issue yesterday. "These guys have got to follow the rules because if they don't follow the rules, they can be hung, drawn and quartered," he said. "But if they follow the rules, maybe you've got to cut them slack."
In some ways, that was an odd reaction. Three years ago, the Prime Minister was quick to order a review of ministers' accommodation grants after the great lengths some had gone to to maximise their income were disclosed. His Government has, as he suggests, made such matters more transparent.
Now, it must shut down this means of benefiting from taxpayer largesse. Doing that would put an end to the discomfort the six MP should be feeling, as much as they insist they are legally within their rights.
They surely know that in such matters, public judgment is always the final arbiter of what is right and what is wrong.