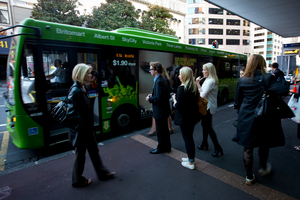 Have you had trouble with the new system? Contact the Herald here.
Auckland bus passengers stuck with outdated purple Snapper Hop cards have today received free rides under an unannounced contingency plan for the phased switchover to a new $100 million electronic ticketing scheme.
That followed the conversion over the weekend to Auckland Transport's new cards, confusingly called AT Hop, of almost half of the 294-strong fleet Metrolink bus fleet.
Auckland Transport spokeswoman Sharon Hunter has confirmed drivers are showing leniency "for a brief time" to passengers who may not have noticed what she said was an extensive advertising campaign, and have yet to add AT Hop cards to their wallets.
She would not say for how long the freebies would last, except to warn passengers not to count on their luck holding out indefinitely.
"We are not advertising it, obviously, and if you think it's going to go on, you'd be wrong," Ms Hunter said.
The council transport body is meanwhile advising passengers switching to the new cards to hold on to their old purple Snapper Hop cards, which were introduced by NZ Bus in 2011 ahead of the public region-wide ticketing scheme.
It has been guarded over just which cards would operate on which bus routes from today, saying only that passengers should be armed with both versions, or carry cash.