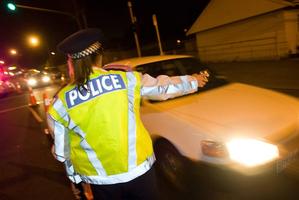 A teacher who drove so drunk that his breath alcohol reading was off the scale has been allowed to continue teaching.
The American-born teacher, a repeat drink-driver, was brought before the Teachers Council's disciplinary tribunal after he was convicted in February last year.
He was censured but allowed to continue teaching on the conditions he did not take students in his car and continued to seek help for alcohol abuse.
In the first incident, on a Sunday morning in October 2011, the teacher was so drunk that he twice fell asleep at the wheel.
The police summary of facts said he was seen driving at an erratic speed and swerving in his lane on a state highway about 11am.
His car crossed the centre line on at least two occasions, forcing the drivers of two vehicles to take action to avoid head-on collisions.
The teacher tried to pull over into a car park, but instead came to a stop in the lane he was in, where he slumped forward and fell asleep.
When a witness approached, the man woke up and drove off down the highway, which children and parents were walking alongside.
He then pulled off at a beach reserve, where he again fell asleep at the wheel. The witness followed the teacher there and removed his car keys before calling police.
When police arrived, the teacher was still at the wheel and unable to speak coherently. He smelled strongly of alcohol and admitted drinking before driving.
Police attempted three breath screening tests before a positive result was obtained. The man then fell asleep again and was unable to be woken during the 20-minute journey to the police station.
Officers attempted two evidentiary breath tests at the station, but both readings were outside the range of the testing machine.
The machine was able to record up to 2000 micrograms of alcohol per litre of breath - or five times the legal breath alcohol limit of 400mcg/l - but the teacher's breath alcohol exceeded that.
The teacher did not consent to a blood test.
A month later, he was again caught driving drunk. Police said he smelled strongly of alcohol when he stopped his car at the end of a road shortly after midday on a Tuesday.
The teacher said his last drink was at 8pm the previous day, when he had consumed "15 standard drinks of cask wine" as well as beer.
He returned a breath alcohol reading of 1187mcg/l - just short of three times the legal limit.
The teacher was convicted on charges of driving with excess breath alcohol, dangerous driving and refusing to give a blood sample. It followed a previous conviction for excess breath alcohol in July 2007.
Appearing before the tribunal, the teacher explained the difficulties he had with alcohol, which he blamed on all his personal and professional difficulties.
He said he had sought help and been alcohol-free for some time.
The Teachers Council's complaints assessment committee, which brought the disciplinary charge, argued there were a number of aggravating factors, including the very high levels of alcohol.
Lawyer Adam Lewis said it was "only dumb luck" that nobody was killed or injured.
The tribunal said it was sad to see a young teacher's life and career blighted by the abuse of alcohol or drugs.
It said the convictions were serious, but it was satisfied the teacher had completed a programme that would enable him to live his life without alcohol.
The tribunal noted the teacher's actions had not put students at any risk.
He was censured but allowed to continue teaching, with a number of conditions imposed for three years.
The conditions include that he must inform employers of his conviction and censure; report every three months that he is continuing to receive help for alcohol abuse; and not drive a vehicle in which students are passengers.
- APNZ