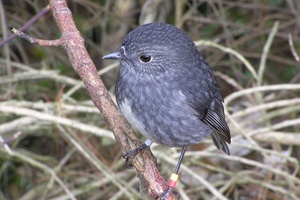 Scientists studying North Island robins, bowel bacteria and condensed matter physics are among the winners of prestigious research fellowships announced this morning.
The Rutherford Foundation Trust Awards and James Cook Research Fellowships, two grant schemes which have received $1.7 million in Government funding, aim to develop the skills of New Zealand scientists.
Science and Innovation Minister Steven Joyce described the winners of the Rutherford Foundation Trust scholarships - three postdoctoral fellows who would be working in New Zealand and three PhD students who would be going to study at the University of Cambridge - as "six of our most outstanding young researchers".
The James Cook Research Fellowships had meanwhile been highly contested by more experienced researchers who were science and innovation leaders in their fields.
"These researchers are of the highest quality and are working on projects that are of real benefit to New Zealand - from the understanding of bowel bacteria and digestion, to the genetic causes of a heart disorder; the use of virtual reality for rehabilitating stroke victims; and the development of more reliable and secure computer programmes and software systems," Mr Joyce said.
The Rutherford Foundation Trust Award recipients are:
Postdoctoral Fellows:
- Dr David Aguirre, Massey University, "Building communities from the bottom up: uncovering links between algal trait variation and biodiversity on temperate reefs."
- Dr Ivone Leong, LabPlus, Auckland City Hospital, "Targeted and whole exome sequencing to identify the genetic causes of long QT syndrome"
- Dr Rachael Shaw, Victoria University of Wellington, "The evolution of intelligence: evaluating the relationship between cognition and fitness in North Island robins"
Cambridge-Rutherford Memorial Scholarships at the University of Cambridge to complete a PhD:
- Abraham Mains, 'Elucidating the cellular and molecular mechanisms governing the life and health span extension observed upon chronic mechanistic target of rapamycin (mTOR) inhibition"
- Edward Linscott, "Condensed matter physics"
- Hannah Sheahan, "The interaction of biomechanics and reaction times for bimanual activation using virtual reality systems"
The two winners and their research are are:
- Professor James Noble, Victoria University of Wellington (Engineering Sciences and Technology), "Reliable Software via Patterns and Ownership".
- Professor Gerald Tannock, University of Otago, for Health Sciences. "A path to understanding bowel bacteria".
For more articles from this region, go to Bay of Plenty Times