Violent invaders strike in broad daylight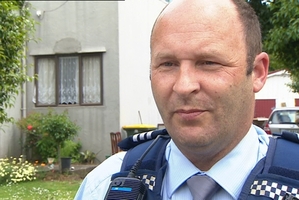 A horrified son is in shock after his elderly parents were beaten and tied up in a brutal daytime home invasion.
Retired Anchor Dairy worker Dayal Patel, 72, and his wife Mani, 65, were in their John St house in Pukekohe, South Auckland, when a man knocked on the door at about 2pm on Friday and asked to speak to someone the couple did not know.
Ten minutes later, two men entered the bungalow, one armed with what was believed to be a firearm.
The couple was assaulted and tied up. The men ransacked the house for about an hour, stealing cash and jewellery before leaving the victims bound in their lounge.
"What happened to my parents is atrocious," the couple's son Yogi Patel told the Herald on Sunday yesterday. "The fact this happened at that time of day has really blown us away. I am still in shock and so very angry about it all."
His parents had needed hospital treatment, Mani Patel suffering a facial injury that required stitches.
"My parents were badly beaten up and have been left very shaken by their ordeal," Yogi added. "We have been here for more than 20 years with no previous dramas."
Counties Manukau Detective Sergeant Glenn Wilkinson described the incident as a "violent and terrifying attack on a defenceless elderly couple". Up to three offenders may have been involved.
"We are appealing for anyone who may have seen ... the offenders or their car in the John St area ... to contact us as soon as possible." A white vehicle, described as similar to a Toyota Corolla, was seen parked in the victim's driveway during the attack.
The man who knocked on the door before the robbery was described as a Pacific Islander aged in his 30s, with long black hair, a beard and wearing a red and white T-shirt.
One of the invaders was described as having light brown skin and a chubby build.
Neighbours described the Patels - who have three daughters living overseas - as a quiet couple.
Ken Hiku, who lives nearby, said he was visiting at Middlemore Hospital on Friday when he saw the Patels - who are recovering with family - being discharged.
"I had no idea they had been the victims of a violent robbery but they both looked very shaken and in a pretty bad way," he said. "They are really lovely people and after this happened everyone on the street is being a lot more vigilant."
Callan Tomkies, a carpenter from Beachlands, was renovating a house across the road when the attack took place. "I was in and out to the front garden all day and didn't see a thing," he said. "I'm pretty angry with myself for not seeing something unusual. These people are animals and have to be caught."
Anyone with any information can call Crimestoppers anonymously on 0800 555 111.
It came two days after an elderly woman who was sexually assaulted in the middle of the day locked her doors and "sought solace" in her bed for5 hours following the attack.
The Hastings grandmother, 87, had checked her mail about noon, and was "pulling a few weeds from the garden" when she was grabbed and dragged into the lounge, her son said. Police were yesterday conducting interviews and a scene examination.