Housing NZ acts to protect other children after death of Brodee, 2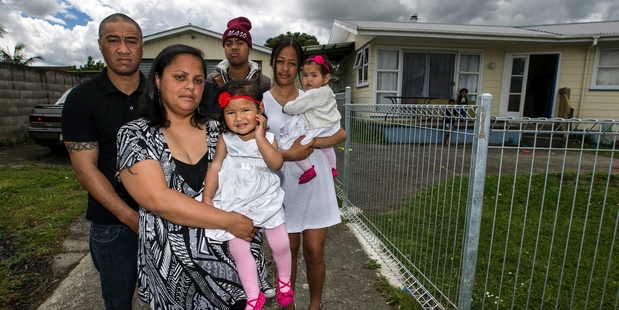 The family of a 2-year-old boy killed in his driveway have had fencing installed to prevent the tragedy happening to his baby sisters.
Brodee Whiunui died a year ago this week at his grandparents' Housing New Zealand-owned home in Papakura.
Brodee's dad, Rima, was reversing out and thought his son was on the porch. But little Brodee was behind the van's back left tyre and he sustained fatal head injuries.
The toddler's death prompted Housing New Zealand to review fencing at the property and it has installed pool-style fencing and a self-closing gate to keep Brodee's other siblings off the driveway.
"My mother had asked about fencing out the front before my son died. It is too late for Brodee, but we are happy it is done now. I have other children to keep safe," Destiny Whiunui said.
Housing New Zealand has assessed 13,000 properties with children and has fenced play areas and driveways at 600 properties this year. It plans to have completed 4744 by June.
This week, the Whiunui family family will collect Brodee's headstone for his unveiling, and try to remember the good times they shared with their son.
"I try and focus on remembering the good things because the bad things will kill me," Destiny said.
"His headstone is beautiful, it has a little angel boy with a heart and a cross. The boy looks like my son, that is why we chose it."
The Whiunui family also want to buy the Housing New Zealand house in Papakura where Destiny grew up and where Brodee died.
"We want to live here forever because this is where we feel close to him, we can't imagine anyone else living here," Destiny said.
Each year, about five children are run over and killed in New Zealand driveways. Dozens more are severely injured.
Last year, chief coroner Neil MacLean said driveway design, housing layout and safe play areas needed to be addressed to stop children being run over in driveways.

Drive advice
• Backing into driveways is dangerous for children and other road users
• In turning areas, more manoeuvres means more risk
• Reversing alarms can attract the children they're meant to warn
• Family education should raise awareness of dangers and blindspots
• All homes should have separate access for pedestrians
• Cheaper backing cameras have tunnel view
• Short driveways reduce risk
- Ann Weaver from Safekids