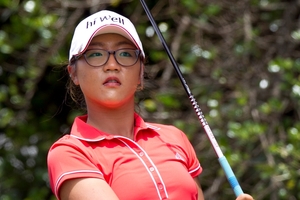 Teen Kiwi golf sensation Lydia Ko returned to New Zealand as a professional yesterday - and her first engagement was for charity.
Ko, 16, was at the Takapuna golf course on the North Shore to play a one-hole charity tournament yesterday afternoon.
The unassuming sportstar played the par-3, 120m, 10th hole once with each of the four divisions (men's, men's champions, women's and women's champions) in association with the Hi Well Charitable Foundation to raise money for children's scholarships.
"The Hi Well Foundation helped out with my scholarships and I wanted to give something back," Ko said.
"I prefer playing in New Zealand - it's my home.
"It's quiet on the North Shore, and I like to practise and play where it's quiet."
Ko turned professional on October 23, after winning two LPGA Tours and rising to fifth in the women's world golf rankings.