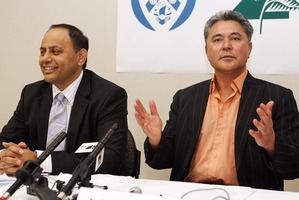 With good reason, companies have always been sensitive about protecting the good name of their brands. But now more than ever, judging by the stampede from RadioLive.
Yesterday, Vodafone, Telecom, Countdown and Briscoes joined four other companies in pulling their advertisements from the station. They were reacting to talkback hosts John Tamihere and Willie Jackson's handling of an interview with an 18-year-old girl who said she was friends with a Roast Busters' victim.
The companies held little back. Telecom accused the two men of "offensive comments", while Briscoes referred to "unacceptable actions".
Many listeners may agree and may already have exercised their rights to switch to another station.
The advertisers' position, however, is less clearcut. Most would not think the placement of an advertisement signifies the company responsible for it endorses any of a radio host's comments in the vicinity of its broadcast.
If such were the case, they would have their products advertised only during shows guaranteed to adhere closely to what they consider a sound viewpoint. Such, clearly, is not so in the vast majority of cases.
Companies do, however, have every right to withdraw advertising if they feel boundaries have been crossed. They can, in an open market, advertise where they like.
The hosts' questioning of the girl, not least an inquiry about at what age she had lost her virginity, along, perhaps, with discomfort about the very discussion of the scandal, led them to exercise that right. The ball is now in RadioLive's court.