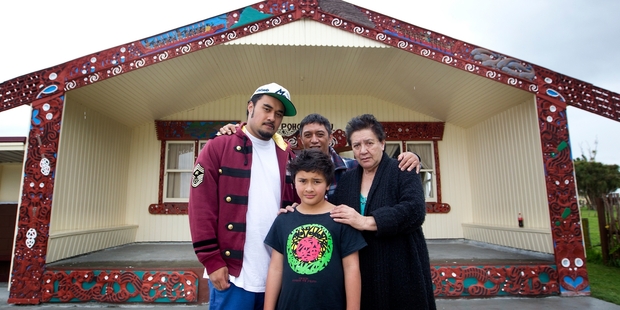 A family ripped apart by tragedy will regather today for a wedding - just five days after two of the wedding party were swept out to sea and drowned.
Becky Smith will marry her Australian fiance Chris Emmerson at Nuhaka today at a wedding that will be tinged with sadness after her relatives Sage Smith, 22, and 7-year-old Kustom Blandford died on Monday.
The pair had not long been at Iwitea Marae for what was meant to be a big week of celebrating and were walking along Iwitea Beach when a wave knocked them over and swept them out to sea.
Ms Smith's mother, Grace Smith, said the double tragedy had left doubts the wedding would go ahead as the family tried to deal with what had happened.
"It's very, very sad and it has sort of darkened things with what has happened and everyone has been asking, 'Is it still going to happen?'
"But the husband, being an Australian, just said, 'Nothing's going to stop me from getting married.'
"He said he didn't come all this way not to get married so it will go on - as life does."
Mrs Smith's eyes stare across the atea (courtyard) at the marae, about 15km north of Wairoa, her face etched by lines of grief and sorrow.
Bags of unused fireworks sit on a table in the wharekai (dining hall) near what look like unopened presents that were meant for Kustom, who would have turned 8 on Tuesday.
The whanau had planned to celebrate his birthday with a fireworks party, and they were also returning to remember the anniversary of the passing of Sage's father, Te Horo "Cootes" Smith.
A number of relatives living in Australia, including Becky Smith, had made the long journey back to Iwitea for her wedding.
The week started with excitement for Kustom, who was awake when his uncle Willie Nuku arrived from Sydney early on Monday morning.
Kustom raved on the trip down from Auckland about how he would see his cousins, the presents he would open and the fireworks party.
The group picked up Sage Smith from his Wairoa home and headed for the marae.
While there, a number of family members started preparing food for Kustom's birthday party but some left for town when they realised they didn't have enough baking soda and were short of a few other supplies.
Sage, his young cousin Isabella, and nephew and niece Kustom and his sister Ocean then set off to a historic site that none had visited before.
The site, known locally as the 12 Logs, holds special significance for the people of Iwitea but it's also a wahi tapu (sacred place) - and they don't encourage visits there.
The totara logs were felled in the Ruakituri Valley and washed down the Wairoa River, then out to sea, after a storm in 1904.
The prophet Te Matenga Tamati said that where the logs had beached themselves was where a tabernacle would be built as a place where people could commune with God.
This is yet to happen as the prophecy will be fulfilled only if all New Zealanders come together under one church.
Ian Denton, who manages the iwi-owned farm blocks in the area, was tending to stock when he saw the group, who seemed happy and told him where they were going.
He warned them before they ventured further: "Shut all of my gates and don't go near the beach."
The locals fish the waters for trevally, snapper and gurnard but very few swim there, most making the 20-minute drive north to the sheltered bays of Mahia.
When waves dump on the steep shoreline, the surf makes a hollow, sucking noise - grinding the pebbles and sand as it goes out.
There are holes, strong undertows and rips, and one local said the beach is like quicksand in some parts.
But the children were getting hot in the warm weather and, as the sea conditions seemed calm, they asked their uncle if it would be okay to walk ankle-deep in the water while holding each other's hands.
A relative said Isabella broke away from the group and headed up the shore bank when she saw a big wave coming towards them.
The wave knocked Sage, Kustom and Ocean off their feet and pulled the trio out to sea.
Ocean made it back to the shore but by then Sage and Kustom were gone.
Shortly after, Mr Denton saw the two girls running towards him "frantically waving their arms, screaming and crying".
He sent the girls back to the marae to raise the alarm as he went to the scene to check, "but all I could see were the footprints where they went in".
Whanau at the marae, with police and emergency services, raced to the scene but they were too late.
Kustom's body was the first to be retrieved with Mr Emmerson, a former surf lifesaver at Bondi Beach, jumping in to assist with his recovery.
Mr Smith was found about an hour later - the surf having torn the clothes from his body.
First cousin Ryyko Smith said Sage was honest and kind-hearted and they spent a lot of time mucking around and playing video games together.
Sage, a sickness beneficiary, was brought up in Wairoa but moved to Auckland when he was 16.
He took up the Mormon faith, was baptised and became a diligent follower, committing himself to an hour of Bible study before leaving for school every morning.
His severe eczema kept him from working when he left school and he spent the past couple of years between Wairoa and Auckland.
Yesterday, a funeral service was held for Sage and Kustom in Wairoa.
Their bodies were taken to Iwitea Marae and then on to Nuhaka to be buried together alongside Cootes Smith, whose headstone was unveiled the day before.
A relative, who asked not to be named, said the wedding ceremony would take place at the Mormon church next to the cemetery where they are buried.
"In a way, Sage and Kustom will be at the wedding; they will be right next door to the church."