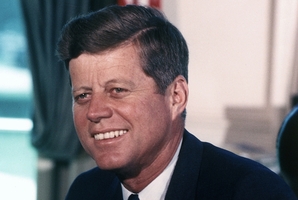 United States President John F. Kennedy agreed to visit Australia and New Zealand weeks before deciding to travel to Dallas, Texas, where he was assassinated 50 years ago.
In April 1963, the Australian Ambassador to the US, Sir Howard Beale, had met the President and secured his agreement to visit Australia.
According to Sir Howard's telegram to his Prime Minister, Sir Robert Menzies, President Kennedy okayed arrangements for a visit by Sir Robert to the US in July, and also the Prime Minister's proposal that he become the first US President to visit Australia.
Mr Kennedy also asked Sir Howard if, when visiting Australia, he should visit New Zealand.
Sir Howard set out his response in diplomatic terms: "I said [New Zealanders] were a bit sensitive on such things and I thought they might be a little put out if he went to Australia and did not call in on them, to which he replied that he thought in these circumstances, he would pay them a very brief visit."
After the meeting with Mr Kennedy, Sir Howard reported that the President saw only "one possible hitch" to visiting Australia, Japan and the Far East "next October" - resumption of atomic testing by the Soviet Union, which did not eventuate.
It appears the "next October" Mr Kennedy referred to was October that year, not October 1964 when he would have been in the final week of an election campaign.
By the time Sir Robert met the President at the White House on July 8, 1963, and joined him for a lunch including senior figures Chief Justice Earl Warren and Vice-President Lyndon Johnson, Mr Kennedy had agreed to visit Dallas in November.
The original visit to Texas was to be over one day with "whirlwind visits to Dallas, Fort Worth, San Antonio and Houston".
By the time Sir Howard and Australia's Treasurer, Harold Holt, met Mr Kennedy in the Oval Office on October 2, the Texas trip had been extended to two days, November 21 and 22, the day of the assassination.
Mr Kennedy had endured personal tragedy in August, losing his second son, born prematurely on August 7. That and other events meant he did not visit Australia or New Zealand before the Texas trip.
- AAP