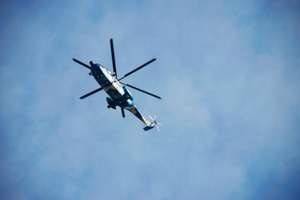 Police still hope to find a New Zealand man alive after he jumped into rough seas to save a friend off a beach near Melbourne on Wednesday.
But the chances were growing slimmer as a search continued around Victoria's Mornington Peninsula.
Melbourne's Herald-Sun reported the man, aged in his 20s and understood to be a student, was swept away while trying to save a friend who slipped off a rock into the water at Pearse's Beach near Blairgowrie on Wednesday afternoon.
His friend paddled back to shore, but the second man was carried out to sea by a large wave and has not been seen since.
Sergeant Danny Lean said State Emergency Service crews had expanded their search to take in the area southeast of where the man was last sighted.
"We're still holding out hope, but obviously as time goes on the chances of finding him are becoming slimmer and slimmer," he said.
A five-hour sea search until darkness fell on Wednesday failed to find the man.
A search involving a police helicopter, local officers and water police resumed at first light yesterday, but poor weather grounded aircraft and prevented Water Police from searching by jet ski.
Australian emergency staff had been trying to contact the missing man's relatives in New Zealand.