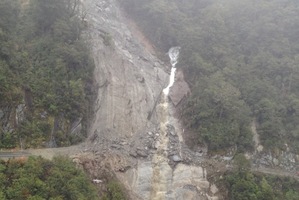 Work on stabilising the Diana Falls slip near the summit of Haast Pass has cracked the $2 million mark after just two months.
The NZ Transport Agency said today the site was starting to settle down, but it still does not expect that section of State highway 6 to be back to two lanes until at least March.
Heavy rain brought down the slip on September 10.
"There has been little material on the road during the last 10 days and have had minimal further disruption from that planned. The ground is hardening up and even in rainfalls of up to 100mm we have managed to keep the road open,'' NZTA West Coast senior asset manager Mark Pinner said.
The road was regularly shut during the first month and is still being closed at night.
Mr Pinner said contractors had three people on the site at all times when the road was open, and cameras had been mounted to record any significant movement.
Regular helicopter inspections were also being made to get a better overall perspective of the site.
"Monitoring of the slip and rockfall continues to build the knowledge of how we can best keep the road open as much as possible.
"We are moving material as needed to achieve this and individual rocks as required.''
Meanwhile, some minor work is planned for another major slip, below the road at Knights Point, on the coastal section of the highway north of Haast township. The slip is within 5m of the road, with a sheer drop of 300m into the sea below.
Mr Pinner said it was also being monitored weekly and the heavy rain of the past month had not had an impact on the slip.
NZTA would soon carry out some drainage works at road level, he said.
"Further site work is currently being carried out to refine the design options. Trial pits and some desktop work such as further geological mapping will improve our knowledge of the ground conditions expected.''
The Knights Point slip occurred just over a year ago.