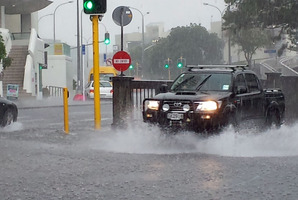 More thunderstorms are in store for much of the North Island this afternoon and tomorrow.
MetService has issued a severe thunderstorm watch which extends from Whangarei to Wanganui and Napier, with a moderate risk of severe thunderstorms and localised heavy downpours.
Spokesman Dan Corbett said the low had already brought heavy downpours to Auckland, Hamilton, Tauranga, Te Puke and from Taupo to the Gisborne ranges this afternoon.
"Think of it like a big octopus, flailing its arms around like it's really mad, and the centre of its head would be sitting just north and east of Whangaparaoa,'' he said.
"We have another day of it tomorrow and then it's getting the hint and moving off to the northeast of New Zealand.''
Short, thundery downpours could continue through the afternoon and evening before easing about 8pm, he said.
"Driving home there could be some heavy spray in places, there's also some risk of some small hail.
"If folks are heading in the car down to Waikato, there'll be some lovely rain for the paddocks there but also some good thunder.''
The weather would improve by the weekend, he said.
WeatherWatch head weather analyst Philip Duncan said some downpours may cause localised flash and surface flooding.
"If the sun comes out that could also lead to a rapid escalation in thunderstorms and/or torrential downpours so people need to be aware that conditions could change quickly,'' he said.
"The good news is that this low is delivering a bit more rain than we thought it would - many farmers are telling us this rain couldn't have turned up a better time.''