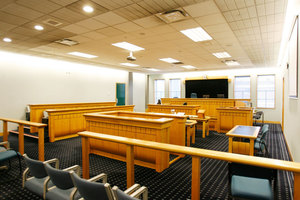 A man who murdered his partner in a frenzied knife attack in 2011 has today been found not guilty by reason of insanity.
Stephen Mark Whittaker, who has since changed his name by deed poll to Stephen Scipio, claiming delusional Italian links, will now be kept as a special patient at a Christchurch hospital.
He said on September 27, 2011 he "just went crazy" and stabbed Bronwyn Sadler 26 times with a large hunting knife in the brutal, fatal attack at the home they shared in Spreydon, Christchurch.
The 55-year-old phoned police and initially claimed that "the crazy bitch had a knife on her" and had tried to kill him.
In May last year, Scipio was found mentally impaired and not fit to stand trial, and the following month he was detained as a special patient under the Criminal Procedure (Mentally Impaired Persons) Act 2003. He has remained at the forensic unit at Hillmorton Hospital since then.
Reports at the time concluded he posed a serious risk to the public, having been diagnosed with schizo-affective disorder characterised by mood disturbances and hallucinations.
Both a psychiatrist and a psychologist believed it was likely Scipio was suffering a psychotic episode when he killed 47-year-old Ms Sadler.
His health has since improved, and in April the Attorney-General made an application for a review of the case by the Mental Health Review Tribunal.
In July, the tribunal concluded that Scipio was no longer unfit to stand trial.
His sanity at the time of the murder has remained in question, with his defence counsel Craig Ruane saying that if it proceeded to trial, a defence of insanity would be raised.
The High Court ordered psychiatric reports, and a hearing was held at the High Court in Christchurch today where it was found he was not guilty by reason of insanity.
Justice John Fogarty ruled that Scipio is now detained as a special patient under the Criminal Procedure (Mentally Impaired Persons) Act.
Ms Sadler's mother and sister were in court today, and Justice Fogarty expressed regret to them over what happened.
"I know it's been a very difficult and tragic matter," he said.
The court heard today that Scipio had made "clumsy" attempts to stage a struggle inside the house.
Crown prosecutor Brent Stanaway said none of the attending officers believed his claims that Ms Sadler had tried to attack him.
He had moved the body from the back yard to the driveway, placed a clean knife in her open hand, but had not attempted to clasp her fingers around it, Mr Stanaway said.
After initially talking to police, Scipio asked for legal advice, and after speaking to a lawyer persisted with a line of saying 'no comment' in response to police questioning.
All of this could suggest someone aware of his crime, Mr Stanaway said. But given how "clumsy and unconvincing" the actions were, it did not mean that anyone was fooled by it, he said.
"While the Crown acknowledges a verdict of not guilty on grounds of insanity is appropriate, there are a number of counter-indications to that verdict, but that is not unusual."
apnz gf
- APNZ