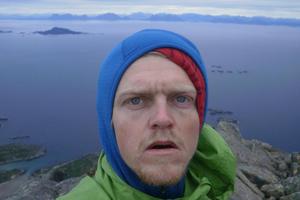 A Kiwi skier was shocked to discover his Swedish skiing partner had fallen to his death on Aoraki-Mt Cook just days after they set a new record on the mountain together.
Christchurch man Nick Begg, 26, was part of a group believed to have made the first continuous ski descent of the mountain's east face last Tuesday.
Among the group was Swedish adventurer Magnus Kastengren, 32, who plunged 600m to his death while skiing near the summit of Aoraki-Mt Cook on Sunday morning.
Mr Kastengren's skiing companion at the time of the accident - renowned Swedish ski-mountaineer Andreas Fransson, 30 - also took part in the record-setting descent last week, along with Wanaka man Tyrone Low, 28.
Mr Begg said it was a shock to learn of Mr Kastengren's death.
"It's always sad when someone loses their life - it was definitely a big shock when we heard about it ... It was quite weird to go form sharing such an awesome experience with them on Tuesday."
The Kiwis first met the Swedish pair at the Alpine Club lodge on Aoraki-Mt Cook a week before the incident.
They learned the Swedes were also planning to ski the mountain, so all four decided to share a helicopter to Plateau Hutt on Monday last week.
The group's descent of the east face last Tuesday was thought to have been the first continuous descent without removing skis and putting on crampons.
"It was an awesome day - beautiful weather, great skiing and it was great sharing an experience with Magnus and Andreas, who are both really friendly."
Mr Kastengren was a "really nice guy" who the Kiwis got along well with.
"He seemed to joke around a bit, good sense of humour. He got along with us, and him and Andreas have both done a lot of stuff overseas, a lot of climbing and skiing.
"It was cool asking them about the trips that they've been on, and hearing some stories about what they've done."
Mr Begg said the Swedes had mainly come to New Zealand to ski Aoraki-Mt Cook.
"That was basically why they were here ... try and do the highest mountain in New Zealand. So they were really happy on Tuesday after having completed that goal."
Mr Begg said ski-mountaineering was not a big sport in New Zealand but in Chamonix, France, where the Swedes were based, it was more popular.
The Swedes had done a number of first ski descents, including in France, Scandinavia, and North America.
Mr Begg said it could be a dangerous sport but participants were always aware of the risks.
Mountain Safety Council alpine and avalanche spokesman Andrew Hobman said only a small handful of people had ever skied on Aoraki-Mt Cook, particularly on the side where Mr Kastengren fell to his death, which was very icy.
"They're certainly a rare breed that they can ski like that and take those risks. It is tragedy, but it is definitely quite a rare occurrence really."
Mr Hobman said ski-mountaineers had to be quite adept at both climbing and skiing, and were usually well-prepared.
He did not think the incident would deter overseas visitors from climbing New Zealand's mountains, given the Swede's activity was "quite extreme".
"Any negative news about our mountains doesn't paint a great picture, but generally, most people coming to New Zealand are coming to undertake slightly less risky things."
Senior Constable Les Andrew of Twizel police said Mr Kastengren's body had been taken to Christchurch. The Swedish embassy and the coroner were making repatriation arrangements.
Mr Fransson returned to Sweden on the day of the incident.
- APNZ