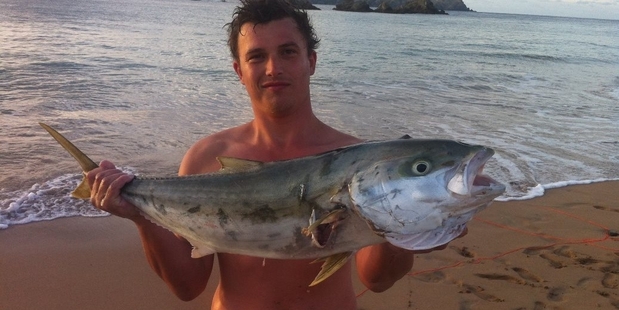 A Kiwi diver was dragged behind a humpback whale as he tried to free it from a tangle of commercial fishing gear in Fijian waters.
Aucklander Sam Jupe, who is in Fiji on holiday, was heading to shore on a small charter fishing boat near Beachcomber Island yesterday when he and others in the party saw what he said looked like "a massive tree trunk in the water" about 10m below.
The 25-year-old discovered it was a 12m-long humpback whale caught in commercial fishing gear, including ropes and a buoy.
"It looked like it [the fishing gear] had been on there for a long time," said Mr Jupe. The whale's tail was "tied up like a ball" by the gear.
"It was obviously distressed from what was happening to it."
The boat stopped and Mr Jupe, a dive instructor for DiveHQ Westhaven in central Auckland, decided to try to cut the whale loose.
But the only knife on board was a "blunt butter knife".
After diving to reach the whale, Mr Jupe found it could not move its tail. He managed to cut the fishing buoy free. As soon as he did, the whale started swimming.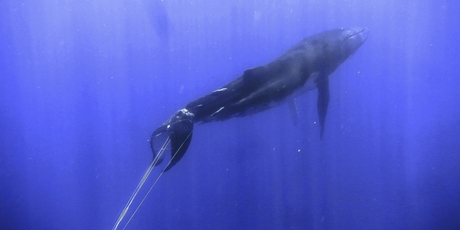 Mr Jupe kept hold of the rope and tried to free the whale as the charter boat followed from above.
"I jumped in the water I think four or five times and just tried to cut more and more of the line off."
While he did not remove all of the line, he said the whale seemed "more relaxed" and was able to swim away.
"It was kind of like it knew you were trying to help it," he said.
As a dive instructor, Mr Jupe said he knew the risks of jumping in with the 12m-long mammal.
"I just thought 'I can't leave this whale here'," he said. "If anybody was in the situation and they had the skills to deal with it, you would like to think they would do the same."
Mr Jupe is in Fiji with a group of about 120 Kiwis as part of "Spring Break", a five-day party organised by a New Zealand tourism company.
"It felt pretty awesome to come back on to the beach, and there's 120 party-goers, and you're just going, 'I just rode a whale'," said Mr Jupe.
"It's not often you can say that."