Husband says he didn't know car he dodged went on to kill his wife, driving behind him.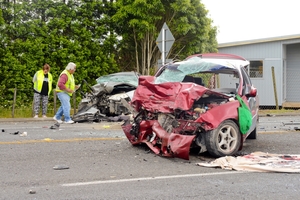 A man has told how he avoided a vehicle that had crossed the centre line only to discover minutes later it had ploughed into the car his wife was driving, killing her.
Michael and Gaylene Grant, 51, from Puhoi, were travelling in convoy to shift a caravan to their section further north for the start of summer.
Speaking from the family home yesterday, Mr Grant described Saturday's accident as senseless and said he wanted answers as to what exactly had caused it.
"She was a mother and is going to be sorely missed," he said.
"[It is] such a tragedy that should never have happened. It's a senseless taking of a life."
Mr Grant said he and his wife had been together since they were 15. They had lived in Puhoi for 20 years, and had raised three sons there.
Both were looking forward to a first grandchild, and a son's wedding next year. "[It has] destroyed someone's life for no reason ... destroyed so many people's hopes and dreams.
And left a lot of people in shock."
Mr Grant was towing the caravan and his wife was in a station wagon behind him when, about 2pm and just north of Whangarei, an oncoming hatchback crossed the centre line.
The car hit the caravan and then Mrs Grant's vehicle, killing her and the driver of the hatchback, Leonard Roderike, 54, from Hikurangi.
Police said they were awaiting autopsy results and talking to people to help establish what happened.
Sergeant Chris Goodall of the Northland police highway patrol told the Northern Advocate the crash was an "absolutely terrible scene".
Driving conditions were good and the investigation's focus was why Mr Roderike had crossed the central line.
"We are still looking into the cause of the crash, but early indications are that [he] may have fallen asleep."
Mr Grant said the hatchback had been travelling about 100km/h.
"He just kept coming ... I didn't see him hit my wife, I didn't know he had hit her," he said. "Once I got [the caravan] back under control I went to the side of the road and ran back and there she was.
"I was expecting him to be on the side of the road behind me, but he was way up the road in the middle ... and she was off to the side."
Residents and local fire officers were on the scene near the small settlement of Kauri within minutes. The bodies of both the victims had to be cut from their vehicles.