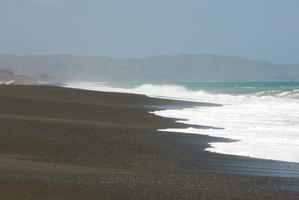 A 7-year-old boy and his 22-year-old uncle who drowned in northern Hawke's Bay yesterday have been named by police.
They were Sage Wi Smith, a Wairoa farmer and his nephew, Kustom Michael Soljah Blandford, of Auckland.
Their deaths have been referred to the coroner.
The pair died when they went into the sea to help a younger female relative who had been swept in by a wave as they walked along the foreshore north of Wairoa.
The girl made it to shore but Kustom and Mr Blandford were lost.
Their bodies were recovered later yesterday afternoon.
Sergeant Aubrey Ormond of Wairoa police said Kustom and Mr Blandford were part of a family group gathering at Iwitea Marae to prepare for a wedding on Saturday.
One of the victims was also the son of a man whose unveiling is tomorrow.
"The community will be in grief, it's a huge shock, "Mr Ormond said.
A friend of the family said Kustom's mother was on her way to Wairoa from Auckland yesterday after being told of the tragedy at work.
He said a number of family members from Australia had also made their way to Hawke's Bay for the wedding.
The man said sea conditions were not "bad'' yesterday, but that stretch of beach was "always dangerous''.
"There was an on-shore wind, a bit of a surge, a bit of a swell. The beaches here are quite sharp and deep.''
Police had to cross private land to gain access to the beach.
Wairoa Mayor Craig Little said it was an "absolute tragedy''.
"The community will be supporting each other in this hard time. It's just horrible and tragic for everyone involved.''
Gisborne-based Eastland Rescue Helicopter pilot and base manager Neil Dodds said last night that family members of the two at the scene were "fairly distressed to say the least''.
"It wasn't that flash down there,'' he said. "A difficult one to put into words.''
Mr Dodds was unsure of the circumstances leading up to the deaths. He said there had been "mild surf'' but locals said "it might have been a bit of a rip that got hold of them''.

- Gisborne Herald