Designers propose transforming 'no man's land' with habitat islands and lagoon beaches off Tamaki Drive.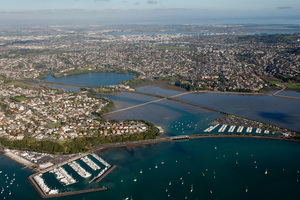 Hobson Bay is being eyed by urban designers for transformation from a silted backwater into a jewel in Auckland's waterfront crown.
An ambitious proposal for almost a century of sediment to be turned into ecological habitat islands around an enlarged central land mass, including lagoon beaches off Tamaki Drive, will be considered by the Orakei Local Board alongside a plan to improve public access to the bay.
Although the board has spent months consulting interested parties on the plan - which it will present to the wider public next week - its focus has been on enhancements including walkways and reconfigured sports fields.
A latecomer is a proposal by coastal restoration experts for an expanded land area around Tamaki Drive's convergence with the main trunk railway line, and two lagoons on the seaward side.
Reset Urban Design director Garth Falconer, who worked with the former Auckland City Council to beautify adjacent Judges Bay for $4 million, welcomes the local board's plans to upgrade Tamaki Drive and extend boardwalks around Hobson Bay.
But he says those skirt around a larger opportunity to reinstate it to something of its past glory, which was degraded by infrastructure developments early last century, including a sewer line replaced in 2010 by a tunnel for $120 million.
The railway line and road were added in the late 1920s, and Fletcher Construction proposed filling in more than half the bay in the 1950s for a high-rise town centre and university campus, raising howls from Remuera residents that it would despoil "the loveliest suburb in the world".
"It became a no-man's land, this massive bay so close to the city centre," Mr Falconer said.
He believes the ready supply of sediment would allow his proposal to be developed for a similar cost to the $28 million Onehunga foreshore project, to which hundreds of thousands of tonnes of fill is being trucked from other parts of Auckland.
Mr Falconer wants to create a central island to engulf and mask the area's remaining infrastructure and provide extra recreational facilities while adding an ecological park and possibly a low-rise village development to gift to Ngati Whatua o Orakei "as an act of goodwill to the city's founding partner".
Although accepting there is no chance of removing the rail embankment bisecting the bay, he said the bird habitat islands should greatly improve views for residents looking across the water from Parnell or Remuera.
Ngati Whatua environmental and heritage manager Malcolm Paterson welcomes being consulted early, but will wait to see what develops before taking a position.
Auckland University's dean of creative arts and industries, Professor Diane Brand, believes the proposal could prove a valuable enhancement to the waterfront.
Unitec senior landscape architecture lecturer Matthew Bradbury sees it as a way of "making our public spaces work for us".
But Auckland Council member Mike Lee says that after blocking plans to extend the port further into Waitemata Harbour, he cannot see the value of more reclamation "however which way you tart it up".
Orakei Local Board chair Desley Simpson is keeping an open mind after meeting Mr Falconer, and can see positive and negative aspects to his proposal, while noting it has yet to be presented to her full board.
The Orakei Local Board will unveil its Hobson Bay plan at Parnell Cricket Club, Shore Rd Reserve, at 5.30pm on Thursday next week.