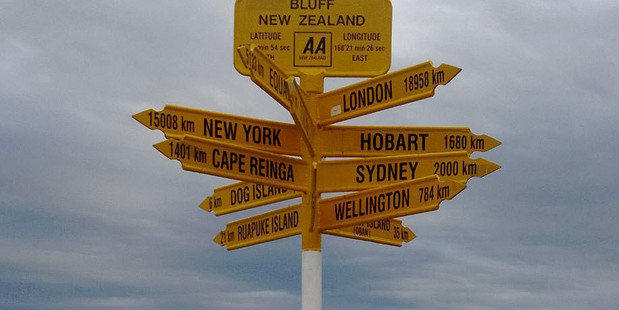 The numbers simply don't add up, and no one knows why.
The signs at either end of the country state clearly it is a longer journey from the top to the bottom of the two main islands than it is heading the other direction.
The discovery greeted the Herald's Greatest Stories road trip when we travelled from Cape Reinga to Bluff over three weeks in September and October. When we arrived at Bluff, the signpost pointing to Cape Reinga said it was 1401km away.
But the Cape Reinga sign claimed Bluff was 1452km away.
The distance, measured yesterday using the Google Maps distance calculator, is 1404km.
No one has an answer to the discrepancy. Land Information New Zealand, which oversees place names through the Geographic Board, said the NZ Transport Agency was responsible for road signs.
But the NZTA denied responsibility, although it offered suggestions. The initial advice from Andy Knackstedt, who speaks on behalf of the agency, was that signs failed to reflect changes in the length of State Highway 1.
A check with the highways experts found the signs measure "as the crow flies" - with both distances on the signs out of kilter with the 1080km of SH1 in the North Island and 955km in the South Island. "Maybe the crow doesn't fly in quite as straight a line heading south," Mr Knackstedt said.
However, as the signs aren't actually on the highway, they're not NZTA's responsibility. "They look like AA signs," said Mr Knackstedt.
That's sort of right, says Liam Baldwin, at the Automobile Association.
"The AA's name is there because of a sponsorship arrangement when the signs were put in place ... but we had nothing to do with the information on the signs."
Reporter David Fisher and photographer Mark Mitchell toured the country gathering the "greatest stories" to mark the Herald's 150th anniversary this month.
They covered almost twice the distance required to drive the length of State Highway 1, gathering 25 stories from city and country.
Fisher said: "The idea was to collect the everyday Everests of New Zealanders we bumped into along the way.
"The stories they told us were remarkable, and willingly shared for the sake of telling a story."
The stories varied from exhilarating to sombre, and in a few cases simply hilarious.