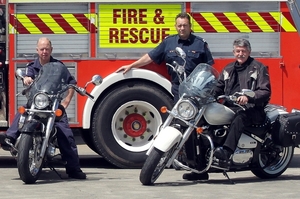 Several Wanganui firefighters are getting on their bikes in the name of research and to remember colleagues taken by cancer.
They will join firemen and women across the country taking part in an eight-day fundraising ride from Auckland to Invercargill later this month.
The event is called the Firefighters Ride for Cancer 2013, and those taking part hope to double the $44,000 raised in last year's ride.
One who will be doing the whole journey is NZ Fire Services area manager Bernie Rush. Other Wanganui firefighters will link up with him for part of the ride.
Mr Rush had melanoma more than 20 years ago but said the numbers of firefighters who had been lost to cancer in the last few years was significant.
"International research has shown firefighters are five times more susceptible to certain types of cancers than the average members of the public," he said.
"That's mainly because we're being exposed to combustible products in our day-to-day working life."
He said while the ride was supporting the Cancer Society of New Zealand, the funds would be going toward cancer research.
He did part of the ride last year when the fundraiser started in Invercargill and ended in Auckland. "I found out about it too late to do it all but this year's I'm doing the whole trip," Mr Rush said.
The fundraising journey will leave Auckland on November 20 and take in Tauranga, Gisborne, Taupo, New Plymouth, Wanganui, Masterton, Wellington, Nelson, Greymouth, Hokitika, Christchurch, Queenstown before the final leg into Invercargill on November 28. "Most of us taking part have got sponsorship but anyone who wants to contribute can go online and sponsor a rider," Mr Rush said. The riders are due in Wanganui about 11am on Saturday November 23. At each town and city visited, local firefighters will send a truck to lead them in.
To support the event go to rideforcancer.org.nz
For more articles from this region, go to Wanganui Chronicle