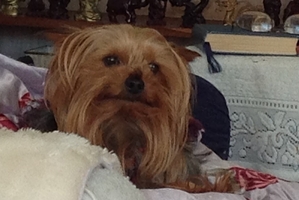 A 90-year-old woman was knocked to the ground by two dogs, which then ripped her miniature Yorkshire terrier from her arms and mauled it to death in front of her.
The woman was distraught and is on anti-anxiety medication after the attack in her driveway in Auckland's Blockhouse Bay last week.
When she saw two English bull terriers coming up her driveway, the woman scooped up her Yorkie, Pepper.
"She picked him up and the dogs circled her, one knocked her over and the other one tore Pepper from her arms," her son told the Herald on Sunday. "One had Pepper's head and one took the other end and they ripped him."
The woman, who was grazed and bruised in the fall, screamed for help and two neighbours came to her aid.
Her family were hoping to find a pensioner unit for her, as she was too upset to stay at the house.
"This has stolen her independence and freedom," her daughter-in-law said. "She is distraught and won't even go to the letter box."
A neighbour, who heard the woman's screams, grabbed a piece of wood to fend off the dogs - but it was too late. "It was absolutely awful," the neighbour said.
The Herald on Sunday understands that the bull terriers had only recently returned to their owner, Elijah Button, after being involved in two attacks on other animals.
Auckland Council's animal management head, Tracey Moore, said the council had contacted Button and received written confirmation from his vet that the dogs had been euthanised after last week's attack.
The council planned to prosecute Button for the attack on Pepper, for an attack in June, and possibly for another attack in September.
Button and his partner, Greer Mar, were devastated their dogs had been destroyed, but accepted it was necessary.
The dog charges are not the pair's first brush with the law. In 2011 they were involved in a stand-off in Okato, Taranaki, where, at Mar's instruction, Button pulled a sawn-off shotgun out of the boot of his car and pointed it at a man.
Police investigated and found a buried cannabis nursery and methamphetamine factory.
Button and Mar were sentenced to more than two years in jail.