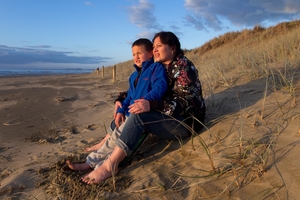 The New Zealand Herald is commemorating its 150th birthday on November 13 and we have a month of great reading ahead to celebrate.
Starting Monday is our series on the greatest untold Kiwi stories. Award-winning reporter and photographer David Fisher and Mark Mitchell travelled the country for a month talking to ordinary people with extraordinary stories to tell.
And today we launch a sweepstake to win a Mercedes-Benz C class car valued at $71,990.
Plus, watch for our special publications to celebrate the heroes of New Zealand's past and our hopes for the future, launching around our birthday.
But first up is the extraordinary road trip around New Zealand capturing stories from our heartland, starting at Cape Reinga and ending in Bluff.
In next week's Herald
Monday: Spirits Bay, Northland - the story of Sheridan Waitai, raised by one of the country's great campaigners, Saana Murray, to remember a lost people.
Tuesday: Ahipara - a drinker's story which ends as a tale of redemption.
Wednesday: Panguru - the story of the man who came back to the Hokianga to help people.
Thursday: Waitangi - the story of two Kiwis who set out to see the world and became adventurers.
Friday: Baylys Beach - meet the teen lovers who didn't see each other again for 50 years, now married and on perpetual honeymoon.
Saturday: Te Hana - the story of the dreamer who dreamed big, built a pa and helped a town.
They are the must-read stories from beyond the headlines.