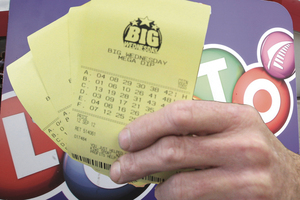 A man has claimed a $1 million Lotto prize - seven months after buying his ticket.
The man, who wishes to remain anonymous, found a handful of old tickets in a coffee table drawer when he started doing his tax return for the end of the financial year.
"When I found the tickets, I thought I may as well check them online at MyLotto.co.nz, just in case," the winner said.
"So I went through each one, until I got to the one from March this year. As I started going through the numbers, it looked like I had all of them.
"Even though I checked the numbers about 10 times, I still thought I must've done something wrong."
Having already waited seven months to check the ticket, the man thought waiting another day couldn't hurt.
"I put the ticket in my wallet and decided to go and check it the next day. I figured, if I hadn't lost the ticket in seven months, I probably wouldn't lose it overnight."
At the time of collecting his prize, the man hadn't shared the news of his win with friends and family - not because he didn't want to tell them, but because he wanted to make sure he had actually won.
"Just because it was such an old ticket. It looked like I had all the numbers, but I just wasn't 100 per cent sure."
Now the prize is in his bank account, he's starting to believe his luck, but he doesn't think life would have been that different even if he'd checked the ticket seven months ago.
"I love my job and I'll still keep working ... but I might have had a few more sleep-ins over the past seven months, if I'd known," he laughed.
The man plans to follow his dream of buying a house - without a mortgage.
Customers have 12 months from the date of the draw to claim their prizes.
The winning ticket was bought from Shortland Superette in Auckland for the Lotto draw on March 9.
- APNZ