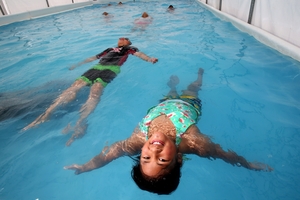 Thousands of Auckland children are becoming more confident in the water, thanks to a city-wide project teaching them how to swim.
The Greater Auckland Aquatic Action Plan has had up to 60,000 children from around the region taking up swimming lessons in the past two years.
Up to 200 primary schools are involved and children work towards being able to swim at least 200m - the standard distance considered for being able to survive.
Lessons are taught by qualified instructors, as well as teachers. For those schools without a pool, huge portable pools are assembled at the start of each term for students to work in.
The project is supported by several different organisations but is fully funded by Water Safety NZ - as part of the Sealord Swim for Life initiative, the ASB Community Trust and Regional Sports Trusts Alliance.
Water Safety NZ head Matt Claridge said with summer fast approaching, it was even more important for youngsters to be confident around the water.
"It's making a huge difference and equipping a whole generation of Auckland kids with the skills they need to swim and survive when they're in and around the water."
Sylvia Park School, in Mt Wellington, has seen a huge improvement amongst its students' swimming skills since signing up to the programme in 2011.
Yesterday, pupils eagerly jumped into the water ready to start a new lesson.
Sports co-ordinator and teacher Hayden Cleere said the progress they had seen in students' performance was, in many cases, staggering.
"It's quite amazing. We have kids who, at the beginning, are absolutely too scared to hold their breath underwater for two or three seconds - or even put their heads underwater.
"At the end of term, they can do anything from two freestyle strokes or even one or two lengths of the pool. They're ... confident; and that's what we're trying to achieve."
Mr Cleere said the aim was for every student to leave primary school with the ability to swim at least one length of the pool.