Auckland is one of the world's top 10 cities, according to Lonely Planet. In a new series, we ask prominent residents what they think about the city.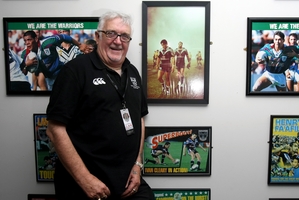 The first reason is obvious: it's the home of the mighty Vodafone Warriors. You've gotta love 'em.
But there are loads of reasons to love Auckland.
This city was the making of me. It's a city of opportunity. I came here from Wellington and I've never looked back.
I'm very fortunate to have travelled a lot of the world, and we are just so lucky. Beautiful beaches, a good cosmopolitan population, and it caters to everybody.
You don't have to be rich to enjoy the best things about the place, like the beaches. They're there for everybody.
The people are great. We've got a wonderful cross-section and you can mix with them all.
You can go to an upmarket area like Ponsonby or go down south and you're with the workers. One minute you can be right bang in the city, 20 minutes later you can be in the country in Clevedon.
The jewel in the crown is Waiheke. Jump on the Sealink car ferry, sit back and listen to the radio or go and have a coffee and when you get to the island you are all chilled out. Waiheke is like a different little world.
Some say it is paradise and I am not going to argue with them. It is pretty special. The kayaking is wonderful.