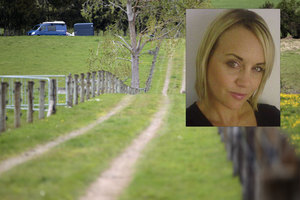 A man convicted of taking part in the kidnap of Rae Portman has told court he was threatened to go along with the plan by the man accused of her murder, but thought she would come to no harm.
Rae Colleen Portman, 33, was four months pregnant when she went missing in June last year. Her body was found dumped in a pit and covered in rubbish bags on an Ardmore farm three months later.
Paraire Te Awa, known as 'Friday', and Dean Michael Addison have both pleaded not guilty to charges related to her death.
Te Awa has been charged with the murder and kidnap of Ms Portman, and Addison faces a charge of kidnap and two drugs offences.
A third man, Lee Rigby, is already serving time in prison for his role in the kidnap, and is the key Crown witness against the two accused.
In the High Court at Auckland today, Rigby told the court he followed Te Awa in Ms Portman's black Mazda to a dimly lit, secluded area on the edges of a Hamilton industrial site where the accused strangled her with a motorcycle strop.
He said that despite it being dark, with only one low street light a couple of hundreds metres away, he saw Te Awa form a noose and put it around Ms Portman's neck.
"He's got Rae in the crook of his elbow, with the strop around her neck and tightening the handle," he said. "He had her in a sitting position in the back of the Mazda."
Rigby told the court how he was threatened to go along with the kidnap plan, but believed that Ms Portman would not come to any harm.
He said when he arrived at the Addison's Papakura home just after midnight on June 21, he was told Addison and his wife Nicola had pretended not to be home when Ms Portman came over around 10pm, and that she was now next door with Te Awa.
Shortly afterwards, Te Awa joined them.
"He told me that Rae was next door and if I was to tell anybody about that he would kill me and if I didn't comply with what he wanted me to do he would kill me, and proceeded to tell me that he had her next door and had her tied up etc," he said.
When Rigby was later asked to go to the house and give Te Awa some help, he described seeing Ms Portman bound and gagged on the couch, with a sheet pulled over her head and tape tied around her mouth.
He said he didn't run away because Te Awa "could have caught up with me at a later time''.
"When he's an angry man he's a man on a mission," he said.
"You've got to understand that when he speaks, and in that tone that he does in a threatening manner it's got to be taken seriously, and not just for that moment but for the long term as well. With a person that large, when he tells you something you do what he says."
Facing numerous questions from Te Awa's defence lawyer, Mr Kaye, about why he chose to stay and continue when he had a number of opportunities to flee, Rigby said he had considered it but didn't.
"A lot of things were running through my mind that night as to what to do,'' he said.
Later he said: "There was lots of opportunities through these entire course of events that I could have got help, and subsequently that's why I got charged with kidnap."
He agreed that looking back on it now he "could have got away".
Mr Kaye again repeatedly accused Rigby of lying and said the reason he went along on the journey with the Te Awa was because they were delivering the Mazda to a friend, and there was no person tied up in the boot.
"You were perfectly happy to go along for the journey because none of these events that you are describing - the kidnap, the murder - occurred did they,'' Mr Kaye asked him.
"You're wrong, again," Rigby replied.
Addison and Te Awa sat in the dock flanked by security guards throughout this morning's proceedings. Addison, leant forward with his head down during most of the evidence, while Te Awa watched Rigby, listening intently.
The trial is set down for three weeks, and is expected to hear from over 80 witnesses.
- APNZ