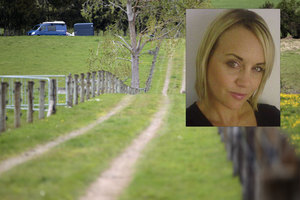 A man convicted of taking part in the kidnap of a Hamilton woman who later turned up murdered, has taken the witness stand for a second day.
Rae Colleen Portman, 33, was four months pregnant when she went missing in June last year. Her body was found dumped in a pit and covered in rubbish bags on an Ardmore farm three months later.
Paraire Te Awa, known as 'Friday', and Dean Michael Addison have both pleaded not guilty to charges related to her death.
Te Awa has been charged with the murder and kidnap of Ms Portman, and Addison faces a charge of kidnap and two drugs offences.
A third man, Lee Rigby, is already serving time in prison for his role in the kidnap, and is the key Crown witness against the two accused.
In the High Court at Auckland this morning, Rigby will be questioned by the defence over his evidence linking Te Awa and Addison to the kidnap and murder.
Rigby told the jury of eight woman and four men this morning that Te Awa made numerous trips to Hamilton after the murder, and how he saw him cleaning out and repainting the liner tray of his ute, in which he is alleged to have transported Ms Portman's body to the farm.
Te Awa had also hinted that excavation work being carried out at the farm - in which a pit was dug to build a bridge, and where Ms Portman's body was later found - had helped him in the past, Rigby told the court.
"He also said he had buried something from a previous job," Rigby said. "My immediate thoughts, I didn't voice that opinion, was that it could have probably been Rae."
Yesterday Rigby described to the court how he saw Te Awa strangle Ms Portman using motorcycle strops to form a noose, which he tightened around her neck.
He also told the court about Ms Portman's ambitions to get "to the top" of the drug dealing world, in which she was a well-known distributor of pseudoephedrine, the substance used to make methamphetamine.
The trial is set down for three weeks, and is expected to hear from over 80 witnesses.
- APNZ