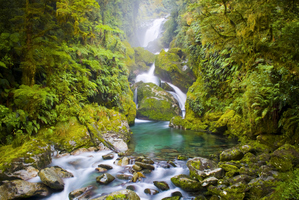 Caretakers of the Milford Track are confident it will remain a stronghold of Kiwi culture for generations to come.
The track is today celebrating its 125 birthday.
DoC tracks and heritage ranger Ken Bradley has no doubt the track will still be going strong in another 125 years.
"It's as popular now as it's ever been and the scenery doesn't change, it's awesome all the way through.
"But track conditions have changed, we've done a lot of upgrading work in the last 25 years."
Mr Bradley said a party of 40 will be taking on the track in era clothes from the 1890s, starting today, to mark the occasion.
He said someone will be dressed up representing Sir Thomas Mackenzie, who was a great advocate for tourism and setting up national parks in the late 1890s.
Mr Bradley said he will be dressed up as artist-explorer Samuel Morton.