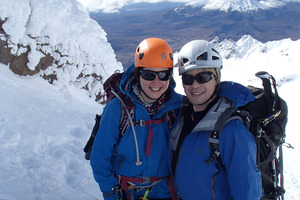 Police are investigating the deaths of climbers Nicole Sutton and Hiroki Ogawa who died on Mt Taranaki over Labour Weekend.
The investigation will include looking into whether the climbing party should have attempted the climb on Saturday, with a forecast for worsening weather.
Taranaki area commander Inspector Blair Telford said police were investigating on behalf of the coroner, according to standard practice.
Ms Sutton, 29, and Dr Ogawa, 31, died after being trapped near the summit of the mountain for two nights in bad weather.
They had set out on Saturday as part of the New Zealand Alpine Club's annual Labour weekend trip to Mt Taranaki.
Experienced climber and guide Ross Eden has said the weather for the weekend was set to turn bad, but not until Monday.
"The forecast was for rubbish weather, but it was quite fine on Saturday morning.
I guess, for all intents and purposes it looked like a do-able day,'' he said.
Taranaki Alpine Cliff Rescue team leader Kevin Lockley said conditions on the mountain could turn from beautiful to "absolutely atrocious'' in 30 minutes. He said early on Saturday the weather "didn't appear that bad''.
Mr Telford said post-mortem examinations would be carried out on the bodies of the two climbers before they were released to families. He wasn't sure when that would be.
Dr Ogawa's parents were thought to be arriving in New Zealand from Japan today, and Mr Telford expected them to make their way to Taranaki.
"I'm not 100 per cent sure of their movements but I assume they'll make their way here at some stage.''
Mr Telford said police would not release the content of text messages between Ms Sutton and the police operations centre, except to confirm the last text message was received from her late on Sunday night.
He did not want to talk about how members of the search party were feeling.
"I'm not going to go into the whole emotional side of it all. We've had a debrief and talked through some of the issues.''