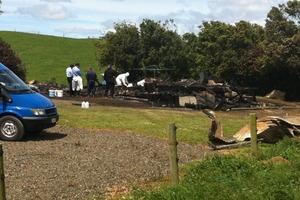 Police will use dental records to identify a man's body found in a farm house south of Auckland which was destroyed by fire last night.
Nothing was left of the single-storey dwelling on Koheroa Rd, Mangatawhiri, except twisted metal, broken glass and blackened timber.
Investigators were at the scene this morning, where the body remained while they tried to establish what happened.
"It's been an extremely hot fire which has levelled the building, essentially,'' said Detective Senior Sergeant Darrell Harpur.
Firefighters were called to the blaze at one of the three buildings on the 140ha dairy farm about 10pm yesterday.
They found the man's body in the sleeping area two hours later.
The farm's owners were not home at the time and found out about the tragedy only this morning.
Mr Harpur said police were yet to establish the man's identity, or how the fire started.
Counties Manukau police spokeswoman Kimberley Mathews said the man was thought to be in his 20s and was the only person there at the time.
Medical examiners would have to rely on dental records to establish his identity during a post-mortem examination which would be carried out today or tomorrow morning, she said.
Meanwhile, a fire which claimed a woman's life in the east Auckland suburb Mt Wellington on Monday may have been started by a cigarette.
Fire Service assistant area commander Roger Callister said it appeared the fire in a bedroom of the Harding Ave house may have been smouldering for up to an hour before emergency services were notified about 4.10pm.
It appeared to have started on the bed and produced clouds of toxic smoke.
"At this stage, it's looking like it was accidental, possibly a cigarette butt left burning. She is known to have smoked in bed,'' Mr Callister said.
There were no working smoke alarms in the house.
"I don't know how many times we repeat the same message: make sure you have working smoke alarms. It's just so sad we' have another person who's died as a result of not having one in the house,'' Mr Callister said.
"So often it's the smoke that kills people, not the fire.''
The house had been released to its other tenants.
- APNZ