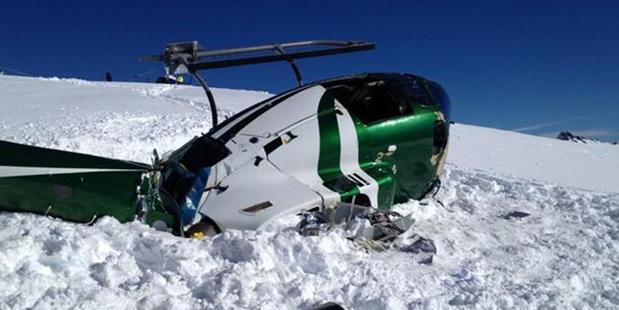 A senior search and rescue officer is surprised no-one was killed in Monday's helicopter crash on the Tyndall Glacier in Mt Aspiring National Park.
Kevin Banaghan, of the Rescue Co-Ordination Centre said given the remote location, extent of damage and number of people involved (11 passengers), he was "very surprised that we did not have a fatality" when a descending helicopter clipped a stationary helicopter near the Glacier. Both aircraft were from The Helicopter Line, Queenstown.
The pilot of the helicopter attempting to land was flown to Dunedin Hospital's intensive care unit at 7.45pm on Monday with serious head injuries.
A Helicopter Line director, Mark Quickfall, said the pilot was in a stable condition yesterday.
"Some of our team have gone through to Dunedin with his immediate family to provide support," Mr Quickfall said.
He also confirmed all the passengers on board had been discharged from hospital "as far as I'm aware".
They had been admitted to Lakes District Hospital, Frankton, on Monday and then some were transferred to Invercargill "just for scans [as a] precautionary measure, but they have all been cleared".
The tourists had been on a scenic snow landing experience when the incident occurred.
Two Transport Accident Investigation Commission (TAIC) investigators inspected the site yesterday afternoon, TAIC investigation support general manager Peter Northcote said.
The damaged AS350 Squirrel helicopters were removed to storage in Wanaka and the investigators hoped to interview passengers and the stationary helicopter pilot today.
The injured flying pilot would be interviewed when his condition permitted, Mr Northcote said
The Helicopter Line will also carry out its own internal investigation.