NZ Memorial Cross handed over at unveiling for Afghanistan bomb victim Luke Tamatea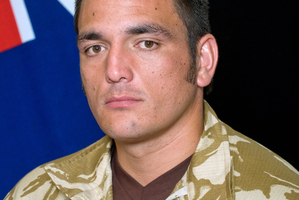 Family, friends and colleagues of fallen soldier Corporal Luke Tamatea have gathered in Kawerau to remember a man described as a consummate professional and a great father.
Just over 14 months ago Corporal Tamatea, 31, Lance Corporal Jacinda Baker, 26, and Private Richard Harris, 21, died instantly when a 20kg roadside improvised explosive device destroyed their Humvee in Afghanistan's northeast Bamiyan Province.
Corporal Tamatea, who called Te Teko home, was buried in Kawerau in August last year. On Sunday, at a service and unveiling of his headstone, 250 people including a 40-strong contingent of soldiers from Burnham Military Camp and Sandra Harris, the mother of Private Harris, remembered Corporal Tamatea.
Mrs Harris had travelled from Auckland to be part of the day.
After the service, a special New Zealand Defence Force presentation took place at the Whakatane RSA.
Major Craig Wilson represented the Defence Force. He formerly served with the SAS and was the officer commanding the team who went to aid Afghan police during the attack that killed soldiers Lance Corporal Pralli Durrer and Lance Corporal Rory Malone in Bamiyan just weeks before Corporal Tamatea and the others lost their lives.
"We are here to present Corporal Tamatea's mother, Lynne O'Brien, his partner, Sarah Erb, and Richard Harris' mother, Sandra Harris, with the New Zealand Memorial Cross," Major Wilson said. "The Memorial Cross is awarded to the next of kin of all New Zealand servicemen and women killed while on war service or operational service overseas.
"This medal has been around since the Second World War. It recognises that it is not only the service member who makes a sacrifice, but also their family. It becomes a valuable taonga passed through from generation to generation."
Since World War II, 113 people have been awarded the medal.
Both Ms O'Brien and Ms Erb spoke at the presentation.
Surrounded by family and Corporal Tamatea's four daughters, both described how difficult the past year had been but said they had drawn strength from family and the friends and colleagues of their son and partner.
They said Corporal Tamatea had loved being part of the army but also loved being a father to his daughters.
A table at the RSA included many photos, certificates and awards Corporal Tamatea had received and included a framed drawing done by one of his daughters. Corporal Tamatea had written on the picture "Love Ya My Beautiful Daughter" with the word "Daddy" enclosed in a heart.