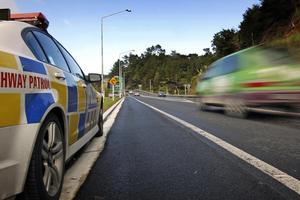 Hopes for the first-ever Labour Weekend without a single road fatality were dashed when a 16-year-old boy was killed in the Bay of Plenty early this morning.
National road policing manager Superintendent Carey Griffiths said the crash was disheartening after a promising start to the long weekend, with no fatalities over the first two-and-a-half days.
"It's always disappointing - it's always a case of plan for the worst and hope for the best, and it's certainly sad that a 16-year-old has lost his life."
The boy was one of four occupants in a car that crashed on Hikurangi Rd in Tahawai, north of Katikati, about 1am today.
Two other passengers, both young men, were injured. One was taken to hospital with a broken back, while the other was treated for minor injuries.
The car's driver, an 18-year-old man, fled the crash scene on foot despite also suffering injuries.
He was found "limping along" on State Highway 2 later this morning, Inspector Peter Raynes of police northern communications said.
The man was taken to hospital for treatment and would be interviewed by police. The police serious crash unit was also investigating.
There has not been a single Labour Weekend without a road fatality since records began in 1956.
The lowest Labour Weekend road toll was in 1977, when two people died, and the highest was the following year, when 16 people were killed.
Last year, six people were killed in three fatal crashes, all on the open road.
The official holiday road toll period began at 4pm on Friday and ends at 6am tomorrow.
Mr Griffiths said police always hoped for no road deaths, but it could be difficult to achieve.
"I've just got my fingers crossed that we have no more between now and 6am tomorrow."
Police were focussing on driver fatigue for the remainder of the long weekend, he said.
"Fatigue is the silent killer. If people have had a big night the night before, then pay attention to their level of tiredness.
"If they're feeling tired, pull over, have a break, and in particular if they haven't had much sleep the night before, ask a passenger or someone who's less tired to drive.
"There's no substitute for sleep. Getting out of the car and having a cup of coffee doesn't cut it. It's sleep that fixes fatigue."
Mr Griffiths said there could be anger and frustration on the roads, so people should "chill out".
"Enjoy the drive back, expect it's going to take longer, and get their safely."
The weather across the country was looking good, but motorists should still watch their speed, and drivers of slower vehicles should pull over to let others pass.
"Irrespective of the crash cause, it's the speed that determines whether you live or die - whether you walk away or are carried away from a crash," Mr Griffiths said.
Over Labour Weekend last year, all six fatalities and just over half the injuries happened on the open road, according to the New Zealand Transport Agency.
NZTA said 45 per cent of last year's crashes were single-vehicle incidents, 24 per cent happened at intersections, 14 per cent were rear-end collisions and 6 per cent were head-on collisions.
Loss of control was the most common factor, contributing to 39 per cent of crashes, followed by alcohol on 30 per cent, speed on 20 per cent, failing to stop or give way on 19 per cent, and inattention on 18 per cent.
- APNZ