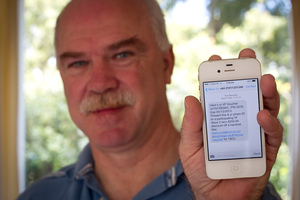 A sweetener to stay with Vodafone has turned sour for one customer who was unable to use a $350 voucher the company gave him for renewing his phone contract.
Aucklander Nick Winspear has been with the telecommunications giant for five years and told the Herald he had considered changing providers after Vodafone failed to deliver on its sales ploy.
Mr Winspear, a web developer, pays a monthly bill for calling, texting and data usage on his iPhone 4S. Last month, when his fixed-term plan was about to expire, a sales rep phoned him offering a $350 voucher to put towards a new phone if he renewed his contract with Vodafone. He jumped at the deal after being told he could buy the new iPhone 5S released on Friday, but when he visited Vodafone's Newmarket store he was told by a salesman the new phones were exempt from voucher purchases until a second shipment arrived next month.
"It was very misleading. The lady that sold it to me knew that I had an iPhone and the first thing she said was, 'Are you looking to upgrade?'
"They just wanted to get the sale, because when I went to the store the man told me, 'You're going to have to wait a month and after that it will be fine'."
Mr Winspear said he was very disappointed, as he had planned to get the new iPhone model for his 19-year-old son, Andrew.
"If they had told me at the time I wouldn't have minded, it's just that they didn't tell me - if you're going in there to sign up on a new plan you're going to be OK, but if you're an existing customer you can't."
Vodafone had apologised to Mr Winspear and promised to notify him when the second shipment of iPhone 5S models were available for purchase with his voucher, but he said it was not good enough.
"I have been looking at 2degrees and Telecom but they will probably say you're going to have to pay breaking fees, but I don't think so - they are the ones who broke the contract first."
Vodafone said it was "putting things right" with Mr Winspear and apologised for not communicating the correct message. "We don't accept vouchers for the outright purchase of the new iPhones because of limited supply, and this should have been communicated to Nick when he re-signed - it wasn't and we apologise for this," a spokesman said.
"We are sorry for the inconvenience this has caused Nick, and for his disappointment. We handle customer concerns on a case-by-case basis and are putting things right with Nick."