But he hopes to be at his son's wedding at Christmas in NZ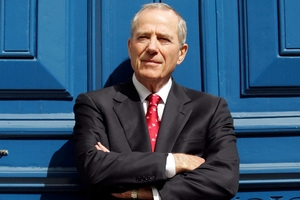 One of the country's richest men is critically ill with cancer, but determined to make it to his son's wedding this Christmas.
Multimillionaire beer baron Sir Douglas Myers is receiving daily chemotherapy treatment at a private clinic in the United Kingdom, where he lives with his second wife, Barbara.
The Herald on Sunday revealed the 74-year-old was diagnosed with prostate cancer several years ago, and now friends and family are shocked to learn the cancer has spread.
Yet, Myers remains upbeat, telling friends he is going to his London office every day and is "significantly better" as a result of his treatment.
Myers has booked tickets to the wedding of his son, Campbell, at Northland's luxury Kauri Cliffs Lodge, but it is understood some close to him are worried the father of three might not make it.
Former Reserve Bank governor and National Party leader Don Brash has kept in touch with Myers.
"He's not very well," he said.
When Myers was first diagnosed with a serious illness he'd felt "a bit pessimistic", Brash said.
"Since then, I've heard that the treatment he's receiving is working pretty well."
Brash and Myers got to know each other in the 1970s. They would discuss how the economy could be improved. Myers supported the free-market reforms of the fourth Labour government, and regarded Roger Douglas highly.
Historian Michael Bassett, who wrote the book The Myers with Paul Goldsmith, is in regular contact with Myers and describes him as "most definitely feeling positive".
Besides his accomplishments in the brewing industry, Myers was a major sponsor of the America's Cup through the Lion and Steinlager brands, and is a generous philanthropist. He put $3million into Auckland University's Kenneth Myers Arts Centre, created the Sir Douglas Myers Scholarship which paid for tuition and living expenses for a student to enrol in undergraduate study at Cambridge University, and supported Auckland University's business school.
He has lived in the UK since 2002, but returns often to New Zealand. He placed 10th on the National Business Review's rich list this year, with a fortune of $880 million.
He was knighted in the 2010 New Year's honours, continuing a family tradition that began with the knighthood given to his grandfather, former Auckland mayor and cabinet minister Sir Arthur Myers. Sir Douglas' father, Sir Kenneth Myers, was also knighted. In 1998, Myers sold his brewing stake to Japanese firm Kirin.
In his last major interview, with the Herald on Sunday, Myers said his heart was still in New Zealand and he hoped to one day return to live.