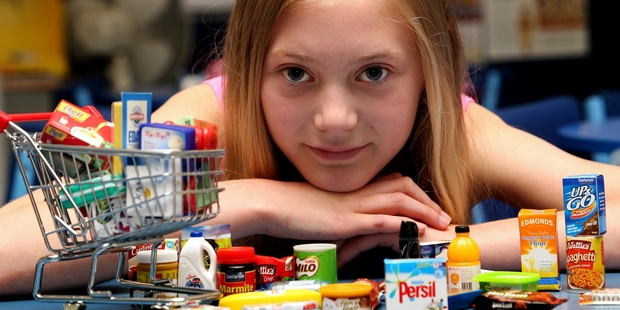 A massively popular supermarket giveaway of tiny replica groceries has had positive spin-offs as special needs schools and eating disorder specialists request sets.
The popularity of the New World miniatures has taken the country by storm. Stores are holding swap-meets for children - and grown ups - desperate to complete their sets of 44 grocery items.
The positive social side effects have pleased New World group manager of marketing Steve Bayliss the most.
The company has a request from a special school in Motueka which wanted a set for its special needs learning centre and had also sent a set to Starship Children's Hospital.
"We had a request from a doctor at Starship who said the set could help as an aid for children with eating problems," Bayliss said. "Children are also getting off their computers and meeting and trading with other kids, which is great."
At Titirangi Primary in West Auckland, 10-year-old Chelsea Goodale was commended for her organisational skills after she arranged a swap session for the whole school.
"We set the rules at the start and it went really well," Chelsea said. "A lot of people were able to trade to get full sets."
Manufacturers of the products paid to be included in the promotion but Bayliss refused to say how much.
"Companies involved did pay. Some, like Fonterra, paid more because they had more than one product."
The items were designed in New Zealand and made in China, with some parts, such as lids, hand-painted.
The popularity of the tiny true-to-life items has led to parents driving from supermarket to supermarket to complete sets.
Some teachers had confiscated minis taken to school because of the distraction; and there were complaints of school kids stealing miniatures from other children.
Store sales had increased dramatically as households changed either where they shopped or what they spent per shop to get the goods. One mini was given away for every $40 spent.
Staff had fielded calls from parents desperate to complete sets.
"We had a call from one father who was distraught because he had accidentally thrown out his daughter's collection which were just in a shopping bag," Bayliss said.
"We did try to help him out with replacing some."
A full set fetched $540 on TradeMe last month, and this week there were more than 3000 listings for the minis - many full sets included.
Bayliss said the promotion had been an "unbelievable success" adding that it may be repeated at a later date with other items.