A fleet of old-time sailing vessels will give spectators on Auckland's Waitemata harbour a nostalgic look at the past this weekend, as Catherine Smith discovers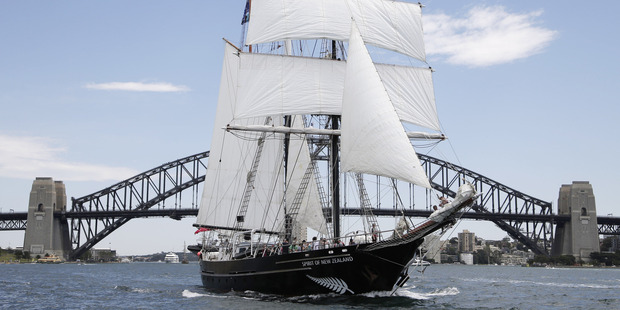 The Spirit of New Zealand sails past Sydney Harbour Bridge. When we've had a spring of being enthralled by two of the fastest boats ever to sail, it seems a sweet throwback that this weekend Aucklanders will be seduced by a fleet of gorgeous old-time sailing ships.
For the first time, Auckland is hosting the Sydney to Auckland Tall Ships regatta.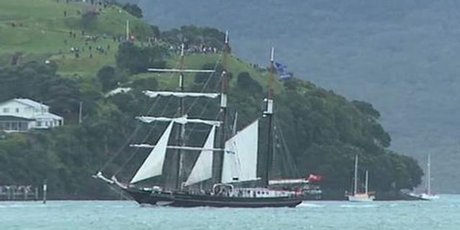 These races have been running in Europe since 1956, but these traditional vessels had sailed their way to Sydney via Cape Town and Fremantle at the beginning of the month.
Seven of them sailed to New Zealand on October 10.
The winning ship, Dutch Bark Europa (from the Netherlands) crossed the finish line at the Cavalli Islands, Bay of Islands on Thursday October 17. She was followed by another Netherlands vessel, Tecla and then our own Spirit of New Zealand two days later.
British ship Lord Nelson, which had retired earlier after a failure on her mainmast backstay, was also at Opua to share in the magnificent welcome by locals.
In fourth place was another Dutch ship, three-masted schooner Oosterschelde, followed by Young Endeavour from Australia.
Paul Bishop, race director of Sail Training International, the not-for-profit organisation that runs the races explains, "Our aim is the development and education of young people through the sail training experience. We foster international friendship through the sea. The first Australasian event commemorates the centenary of the first entry of the Royal Australian Navy into Sydney."
Though the captains and senior officers of the ships are all seasoned sailors, many of the ships are crewed by people of all abilities, including those with mental and physical disabilities.
Bishop points out that the sailing ships, square rigged and weighing up to 500 tonnes are very sensitive vessels to manoeuvre.
Unlike those fancy cats we watched in San Francisco Bay, these beasts can take up to 20 to 25 minutes to tack or bring around - which Bishop points out takes a considerable amount of team work and seamanship, for the up to 60 crew on each vessel.
"Some of these ships are over 100 years old, others are from the 1980s, but they are very similar to the finest, fastest old sailing ships - the tea clippers that used to race for the merchant navy, although some are not quite as thoroughbred! Top speeds in these races would be around 17 knots."
And he has a word of reality for New Zealanders used to Cup racing speeds: last week's crossing from Sydney averaged a mere 7.5 knots, with top speeds of around 10 knots.
Not surprisingly the Tasman threw up the usual spring weather - patches of flat calm (four ships retired because of becalming), interspersed with gusts of up to 60 knots.
During the week, the ships have been either in Whangarei for repairs, or headed to Great Barrier for some crew R & R before sailing into Auckland Harbour - guided by Spirit of New Zealand and Maori waka - for this weekend's festivities.Oosterschelde, Netherlands
The three-masted topsail schooner Oosterschelde is the last remaining representative of the large fleet of schooners that sailed under the Dutch flag at the beginning of the 20th century, a monument for Dutch shipbuilding and maritime navigation under sail.Spirit of New Zealand, New Zealand
The three-masted barquentine Spirit of New Zealand was commissioned in 1986. With some 340 days at sea a year, she is the world's busiest youth ship and is expected to continue voyages until around 2035.Lord Nelson, United Kingdom
Lord Nelson is the first tall ship designed to be sailed by people of all physical abilities. Facilities include wide decks for wheelchair users, a speaking compass to enable blind people to helm the ship and power assisted hydraulic steering for those with limited strength.Picton Castle, Canada
The ship is a completely refitted barque that observes the rigorous standards of Germanischer Lloyds for steel-hulled Cape Horners. The galley is on deck, and its 1893 cook stove is similar to those used on commercial sailing ships 100 years ago.Tecla, Netherlands
• Voyager Maritime Museum will have interactive tall ships activities, performers with old-time sea shanties, and a chance for kids to dress up and steer a mighty tall ship.
• Check out Waterfront Auckland's heritage boat yard and seafaring heritage. You can share what you love about Auckland for their new "Tamaki Makaurau - Many Lovers of Auckland", interpretive heritage trail. Their regular Workshops on the Wharf will focus on Tall Ships, sailors and mermaids.
• Auckland Museum has a mini museum bringing its five-metre tall "living" taniwha for a series of free performances throughout Labour Weekend. There'll be Maori oral histories of taniwha and their role in signifying environmental risks and dangers, displays of whaling, sailing and marine collections plus the museum's coastal marine life app. Kids can join Moana "Fishy Business" holiday programme and craft activities. Or head up to the main museum for the last weekend of their blockbuster Moana My Ocean exhibition.
• Auckland Libraries will have their passenger vessel records (dating from 1838 to 1921) so you can check out family histories plus offers a pop up library.
• Maritime Museum Foundation is showing the documentary The Drowning Country about the New Zealand woman who designed the life jacket during World War I, and Guardians of the Light about the men and women who staffed the light stations on some of the most isolated bits of the country. Free. Saturday (12-4pm, Sunday 10-4pm)
The Tall Ships, along with vessels from the Royal New Zealand Navy, will be moored at Queens Wharf, both sides of Princes Wharf and around the Voyager Maritime Museum.
Crew parade, led by the Royal Navy Band to official powhiri at Queens Wharf, Saturday (10-11am).
Ships will be open for people to board Saturday (11am-4pm), and Sunday 10am-4pm.
Ships will depart the wharves with a full Naval salute from Orakei Wharf (Tamaki Drive). You can join this sail out with the fleet on Bark Europa, Oosterschelde or Tecla (12-4pm, tickets $150, bookings essential).
akltallships.co.nz maritimemuseum.co.nz