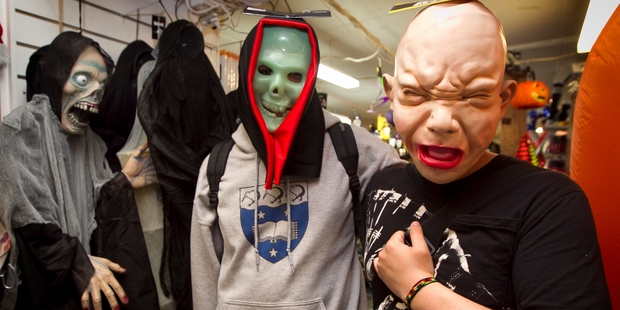 Frighteningly freaky is what many people will be trying to achieve this Halloween; with psycho nurse outfits, zombies, creepy schoolgirl and ugly baby costumes among the favourites this year.
Halloween is just a few days away and already people are lining up to find the perfect scary costume for the party or trick-or-treating run.
At the downtown Auckland Look Sharp store - which specialises in costumes - dozens of people lined the aisles.
Many had their hands full with items such as hooded capes, bright wigs, fake blood and devil horns.
One man was seen holding an Elvis suit while another clutched a plastic replica of a man's hairy chest.
Student Nicholas Thomas, 20, was busy looking for an outfit to go with fangs he purchased a while ago.
"I'm looking for something that would mix well with fangs, but a bit off as well, like a bishop's outfit or Jesus costume. I might just end up going as a vampire, because I was thinking of getting some red contacts too."
He and friend Keegan Dolan-Robson, 21, were checking out costumes for a Halloween party they will be going to next week; but also for something to wear at this weekend's Armageddon Expo.
Store manager Jihee Jung said sales had started to rise over the past two weeks and were expected to increase in the final days before Thursday.
"It's just been crazy - everybody goes crazy for Halloween," she said.
"We've started to run out of some things, like witches' brooms, and we've had to bring in more stock."
Mrs Jung said party decorations and accessories such as fangs, fake blood, canes and capes were also flying off the shelves.
Many parents were also going all out on youngsters' outfits, she said.
"All the kids come with their parents and they say: 'Oh mummy, I want this one'. We've sold a lot of trick-or-treat buckets and the pumpkin outfits have been very popular and also skeletons."
Costume Magic on Newton Rd in Ponsonby said its customers were sticking to the classics this year.
Store manager Kathryn Hart said: "Zombies, zombies, zombies. That's what's selling big here. A lot of people are buying the classic scary stuff, like vampires, devils and ghosts."
For children, Disney characters and superheroes were the favourite choice, as well as the traditionally scary ghost outfits, Ms Hart said.
"It's classic Disney for the girls, mostly. Princesses and cute stuff, rather than the scary stuff."
Halloween is celebrated on October 31 around the world. The day is thought to have pagan roots and remembers the dead.