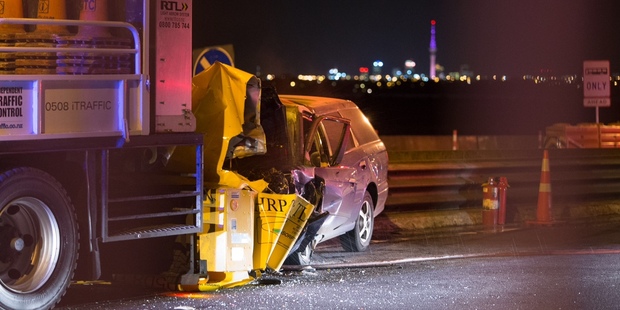 A fleeing driver rammed a police patrol car then crashed into the back of a roadworks truck on Auckland's North Western Motorway following a dramatic pursuit involving armed police last night.
The drama unfolded about 9pm when police were called to reports that a 26-year-old man had fired several shots at a Ranui home, police said.
A short time later a car fitting the description of the man's vehicle was seen by a police patrol unit on Pookes Rd, Ranui. The driver failed to stop and a pursuit was initiated by officers after they activated their lights and sirens.
The man was believed to have a firearm so the Armed Offenders Squad was alerted.
The car went into a driveway on Northfield Road and as a police car approached it rammed the vehicle twice and then fled at speeds of more than 120km/h towards State Highway 16, with no lights on.
With concerns for public safety, the pursuit was abandoned, and ground units also withdrew, but the Police Eagle Helicopter continued to observe the fleeing car's movements.
The vehicle continued along State Highway 16 and road spikes were deployed in several locations.
As the Eagle continued to observe the fleeing vehicle's movements, the driver exited the motorway at Pt Chevalier. It then re-entered State Highway 16 and headed west.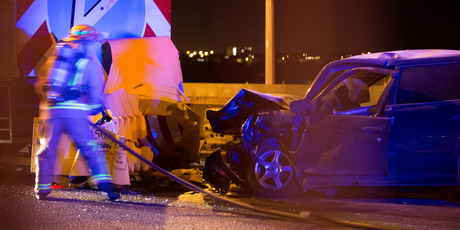 Police said about 25 minutes after the pursuit had been formally abandoned, the fleeing driver drove into the rear of a roadwork's attenuator truck between Patiki Road and Te Atatu Road off ramps.
When approached by police the driver did not comply with the officer's instructions and a police dog was deployed because of concerns the man may be armed.
The event was resolved without further incident.
The man was taken to Auckland Hospital with a broken leg and dislocated hip. He will be interviewed by police upon his release from hospital.
The truck driver was shaken, but uninjured.
Police are investigating events leading up to the incident, which has been referred to the Independent Police Conduct Authority (IPCA).
"This was a dangerous and unpredictable incident, and although the fleeing driver has been injured, it's fortunate that no innocent members of the public were harmed," said Inspector Rod Fraser, acting district commander Waitemat police.
"A police investigation is underway and the incident has been referred to the IPCA, and I am satisfied with the information to date that police have complied fully with all required policy."
- APNZ