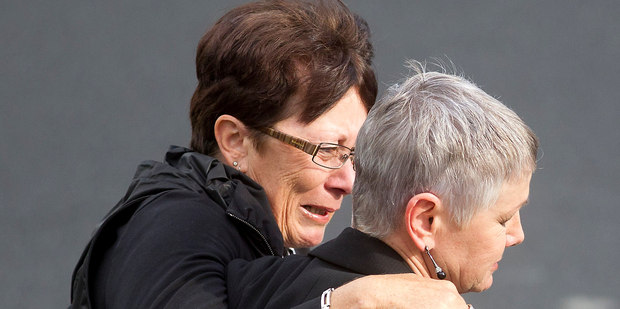 The widow of Robert Murray Wilkinson - killed in an altercation at Waihi Beach early on New Year's Day - says she is still waiting for justice.
Her husband's killer, Israel Kaihau, was yesterday found by a jury to be not guilty of murder but guilty of manslaughter.
Kaihau smiled at family members in the public gallery as the verdict was read.
Some of Mr Wilkinson's supporters hung their heads, and one started crying.
Outside court, his upset widow, Luise Wilkinson, was shielded by friends as she said, "He got justice but I didn't."
Mrs Wilkinson sat through four days of evidence in the High Court at Hamilton.
Kaihau, 19, stabbed Mr Wilkinson, 64, in the left side of the head after being told to leave the Waihi Beach property at which the Wilkinsons were holidaying.
He died two days later, but Kaihau denied intending to kill him.
Kaihau's lawyer, Paul Mabey QC, said the jury of six men and six women had given their unanimous verdict a lot of consideration and had decided the Crown could not prove the murder charge.
"In my opinion it was the right verdict, and the most important thing it was the jury's verdict so yes, Mr Kaihau can probably take the view that justice has been done."
Mr Mabey said his client regretted his actions.
"He's killed someone and he wished it didn't happen. He's been through a trial, he's going to be sentenced and he's going to jail, but he's made it very clear to us that he deeply regrets killing someone who didn't deserve to die."
During the trial, Mrs Wilkinson described how she and her husband - who were on holiday from their home in Queensland - had just seen in the New Year with friends and were about to go to bed when she heard a noise outside.
She found a "non-threatening" and "polite" Kaihau hiding in bushes in the front of the property.
"He said he was hiding because the police were after him," she said. "I said, 'You can't stay here, sweetheart, because we are just staying here and we don't want our friends to get in any trouble ... I just politely expected that he would go away."
After leaving a smiling and nodding Kaihau, she heard her husband of 23 years confront him and tell him to leave.
Seconds later, there was a loud bang as Mr Wilkinson slumped against the garage door after Kaihau plunged a knife into his head.
Crown prosecutor Ross Douch said earlier in the trial that Kaihau was an "inherently unreliable" witness who had "lied and lied and lied".
He had tried to hide evidence that would implicate him in the killing, and a week later he tried to fool a Waihi detective into believing his bogus alibi that he was at home at the time of the incident, Mr Douch told the court.
He said Kaihau was carrying a knife that "wasn't a toy or innocuous" and his level of intoxication was not so bad that he would have been "incapable to realise" that it was a dangerous weapon.
But Mr Mabey said the evidence showed Kaihau was in a drunken, happy mood on the evening in question.
"How does a happy, drunken young boy become a cold-blooded killer because a householder says to him, 'I'm going to report you'?" he said.
Justice Robert Dobson remanded Kaihau in custody. He will re-appear for sentencing on November 29.